How Car Insurance Works
Buying car insurance can be easy, especially if you're shopping online. You can research companies and coverages, get a quote and buy your insurance, all from the comfort of your home – or anywhere else, for that matter. Before you start the quoting process, though, there are several questions you should be prepared to answer.
What type of car do you drive?
How many miles a year do you drive?
¿Dónde vive?
What's your driving history? (Accidents, moving violations, etc.)
Who will be driving your car?
Have there been any gaps in your car insurance coverage?
If your car is damaged or stolen, you'll need to contact your insurance company to make a
claim
.
A variety of coverages are available designed to protect against for different types of claims. For example you might need to make a claim for a collision with another vehicle, object or person's property. You might also make a claim if your car is burglarized, vandalized, stolen or damaged by a natural disaster. When you make a claim, you're requesting the insurance company to pay for the damages done to your vehicle, other people's bodily injuries, vehicles or property as the result of a covered car accident. Coverage is also available to help cover claims of medical expenses for you, your passengers or other drivers or pedestrians involved in the accident.
Do I Need Car Insurance?
Almost every state requires that you buy car insurance if you own a car. New Hampshire is one of the few states that does not. Instead, New Hampshire drivers need to provide proof that they're financially responsible and can pay for the damages if they cause a car accident. In New Hampshire, you are required by law to pay the cost of bodily injury and property damage if you cause an accident. The easiest way to make sure that you can do this is to buy car insurance.
Legal requirements aside, you'll also want to buy the right amount of car insurance coverage for your circumstances. Automobile accidents can be incredibly expensive – especially if you are found at fault. They often include high costs to pay for the damages to your vehicle, other vehicles and damaged property, as well as medical bills that you or others may have. If you don't have automobile insurance, or you don't have adequate levels of it, you may have to pay the costs of an accident out-of-pocket.
There are other, more immediate penalties and fines you could face if you don't have car insurance.
You could get a ticket if law enforcement finds out that you are driving without insurance.
Your license could be suspended.
Your vehicle may be towed.
Get an online quote
and learn more about car insurance coverages that are available and how they can help you.
How Do Car Insurance Deductibles Work?
A car insurance deductible is the amount of money the policy owner pays out-of-pocket on an insured loss before the insurance company pays.
This is unlike most health insurance deductibles, where the policyholder pays out-of-pocket for a certain amount. Once a set limit of out-of-pocket expenses has been reached, the health insurance company usually takes over most or all of the remaining payments.
For car insurance, the policyholder pays the deductible every time he or she makes a claim. After the deductible on the car insurance loss has been paid, the car insurance company begins to make the remaining payments up to the limits of the policy. Let's say you accidentally back into a curb and damage your rear bumper. The bumper needs to be replaced. The new bumper will cost $2,000. Your deductible for this type of accident is $500. Therefore, you will receive $1500 from your car insurance company to cover the costs of this accident. Often, drivers can save money on their premiums when they increase their deductible amount. This is one of the many ways that drivers can
lower their car insurance costs
.
How Does Rental Car Insurance Work?
If you have car insurance then you may not need the coverage that is offered by rental car companies. In most cases, your vehicle liability, collision and comprehensive policies will cover accidents or damage you cause while driving a rental car. A major difference between rental car coverage and your standard policies is your deductible.
For example, rental car companies offer crash and car theft damage coverage. If you pay for this coverage through the rental car company, then you will not be accountable for damage that happens to the rented vehicle. This can include damage from an accident, theft or vandalism. Your own collision and comprehensive coverage will also cover these types of damages. However, if you make a claim through your car insurance company, you'll probably have to pay a deductible.
Rental car companies can also offer you coverage for damage you do to others, injuries you sustained while driving, and property stolen from your car. Your auto insurance policies should be able to protect you from these costs, as well. Bodily Injury and Property Damage Insurance can help cover the costs of damage and injuries you cause to other drivers or their property.
Your own health insurance probably covers the costs of injuries that you sustain while driving. Your Homeowner's or Renter's Insurance policy may cover property stolen from the rental car. Again, if you go through your own insurance, these policies typically require a deductible. Your car insurance likely covers you for these events; you may not need to buy additional coverage through the rental car company.
It's also worth mentioning that some credit cards cover damage from a collision or theft on a rental car. If you already have primary car insurance that protects you from the costs of collision and theft, your credit card coverage may not apply. Depending on the card provider, credit cards may pay primary or secondary but you will need to deal with their claim department and it may take time and effort to be paid. Credit card coverage for rental cars is possibly best suited for people who have a license but don't own a car and are renting.
How to Get Car Insurance
Getting car insurance is easy. Most car insurance companies offer three main ways to get coverage and can often provide coverage on the same day:
On the phone: 888-546-9099
Most states allow you to print a copy of your proof of insurance and keep it in your car until your official Insurance ID card arrives. Some insurance companies will also provide proof of insurance that you can keep on your mobile phone. This means you can research your coverage, buy it and start driving all in one day.
How Does Car Insurance Work if You Total Your Car?
Typically, your vehicle is considered a total loss if the cost to repair the damage exceeds the market value of your vehicle. In some cases the market value of your totaled car – or the amount your insurance company will pay you for the damages – will not cover the amount you still owe on your auto loan. That's when Gap Insurance comes in handy.
Learn more about Gap Insurance
and how insurance for totaled vehicles works.
How Car Insurance is Priced
Several factors are used to determine the cost of car insurance, including:
Driving Record – A safe driving record can indicate that you are less likely to cause or be involved in an accident. If you have moving violations or accidents on your record, you may have to pay more for your auto insurance. You can expect to see your rates go up if you're involved in a moving violation or if you cause an accident.
Where You Live – There's a higher probability that your vehicle will be broken into, stolen or vandalized if you live in an area that has a high crime rate, so you can expect to pay more in premiums than someone in a low crime area. You may also have to pay more for car insurance if you live in a heavily populated area. The chances of you being involved in an accident with another driver, pedestrian or person's property are higher in areas with more people and cars.
Coverage History – Insurance companies like to see continuous auto insurance coverage. It shows you are a responsible car owner. Long or frequent lapses in your coverage history can result in higher premiums.
The Vehicle You Drive – Typically, safer and vehicles with lower market values cost less to ensure. Expensive vehicles require expensive repairs and may cost more to ensure. Vehicles that don't perform well in safety tests also cost more to insure. This is because they typically suffer more extensive damage in an accident compared to cars that perform well in safety tests.
How Much You Drive – The more time you spend on the road, the more likely you are to be involved in an accident. Drivers who have longer work commutes or spend more time on the road can expect to pay more for auto insurance.
Benefits of Having Car Insurance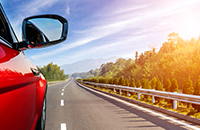 The benefits to drivers of having great car insurance go beyond fulfilling a state requirement. Car insurance can help protect your financial well-being by mitigating the risks of having to pay the potentially ruinous costs of a significant auto accident claim. In the event that you're involved in an accident, or hit by an uninsured or underinsured driver, car insurance can help pay the costs of the repairs and medical bills. Without it, you might have to pay a substantial sum of money out of your own pocket. Car insurance also helps cover the passengers in your car and other drivers on the road if you are responsible for an accident. Not to mention that car insurance can cover medical expenses that your regular health insurance may not cover. This may include high deductibles, accident related dental work and hospital visits.
Car insurance can also help save you time and cut out inconveniences. Without car insurance, if you're involved in an accident you may have to find a repair shop, get a rental car, negotiate the repair costs and communicate with the other drivers involved in the accident and their insurance companies and negotiate payment of the other person's claim. One of the last things you want to do after a car accident is deal with all this hassle. A good
car insurance company
can help handle these issues for you and will support you at every step through a smooth and low-stress claim process.