What Is the Best Car Insurance Policy?
The best
seguro para autos
policy for you depends on your needs and several other factors. Different drivers may need different levels of protection depending on where they live, the type of vehicle they drive, their driving habits and other considerations. For example, different states have different car insurance requirements. When choosing the best car insurance for you, here are a few things to consider:
The Type of Car You Drive – Generally you'll need higher levels of car insurance coverage to help protect higher value cars. It generally costs more to repair or replace parts of more expensive vehicles than it does less expensive ones.
Where You Drive – If you routinely drive in an urban area with lots of traffic and pedestrians, the risk that you will be involved in an accident with another vehicle or pedestrian is higher and you could pay more for your auto policy. However, you will probably spend less on your car insurance if you do most of your driving rural or suburban areas.
How Much You Drive – The more time you spend on the road, the greater your chances of being involved in an accident. Drivers who have long work commutes or who do a lot of traveling by car need higher levels of coverage.
Where You Park Your Car When It Is Not Being Used – A good car insurance policy will help protect you from the costs of non-collision damages. For example, if someone breaks into your vehicle, vandalizes it, steals it, or if it's damaged by a natural disaster, your car insurance policy helps cover the cost of the damage. If there's a high crime rate in your area, it could increase your chances of vandalism to or theft of your car. If you live in an area with a higher than normal risk of adverse weather conditions such as tornados, then you'll probably need more car insurance coverage to help cover the potential costs of auto damage or loss due to covered weather events.
Who Drives Your Car – If you are not the only one who drives your car, you may need coverage for your family members or other drivers including your spouse and/or teenage children. Teenagers are in a higher driver risk category, so you may need higher levels of coverage.
Your Driving History – If your driving history is relatively spotless, you may be able to get by with less expensive coverage. If you have a history of moving violations, speeding tickets, and/or accidents, you may need a higher level of car insurance coverage and your coverage may cost more.
The Hartford has been a trusted auto insurance provider to AARP members since 1981, through the AARP® Auto Insurance Program from The Hartford.1 Customers who buy their insurance from The Hartford enjoy peace of mind knowing that they have industry-leading coverage and among the highest-rated claims service ready to help them 24 hours a day, 7 days a week. We offer a broad array of coverages so you can tailor your protection to best meet your needs.
How Do I Find the Best Car Insurance Rate?
Most car insurance companies offer discounts to customers who take measures to improve their driving safety and the security of their vehicles. Customers may also enjoy discounts on their car insurance rates when they bundle coverages or stay with the same insurance company for several years.
Bundle Insurance – Customers often receive savings benefits when they buy multiple ("bundle") insurance policies from the same company. For example, customers who buy their homeowners or renter's insurance and auto or RV insurance from the same insurance company may get a discount.
Defensive Driving Courses – It's never too late to brush up on your driving skills – especially if those skills can help you avoid an accident. Drivers who take an approved defensive driving course can often get a discount on their coverage. Just send the insurance company a copy of your driving school certificate.
Pay in Full – Customers usually have the option of paying their insurance in monthly or annual payments. Customers who pay in full may see a discount compared to those who pay monthly.
Antitheft Devices – Adding antitheft devices to your vehicle, such as alarms and vehicle locators or buying a new car with antitheft devices can help lower your premiums.
Driver Training – Young drivers need experience and training to be safe on the road. Often, you can get a discount on your children's' auto insurance by having them pass an approved driver education course.
Vehicle Fuel Type – If you have a hybrid or electric vehicle, you may qualify to receive a discount.
The Hartford's auto insurance offers additional protection options. Our Advantage Plus‡ package takes coverage a step further.
First Accident Forgiveness – If you qualify, your premiums will not increase after your first accident for which you are found legally at fault.
Disappearing Deductibles – Your collision deductible on your car insurance goes down each year you maintain a clean driving record. Your deductible can eventually be eliminated altogether.‡
Waiver Of Deductible For Not At Fault Accident – In most cases, The Hartford will waive your deductible if you're involved in an accident and found not at fault.
There are many choices for car insurance coverage. A car insurance company that allows you to tailor coverage to your needs may be a good choice for you. Following are some of the coverage options you may want to consider.
What is the Best Car Insurance for Claims?
The Hartford insurance has a patented claims process and our customers' claims experience is rated among the highest in the industry. You can even report simple auto claims online.
You can contact our claims department at
877-805-9918
. Our claims representatives are available 24 hours a day, seven days a week.
We also offer roadside assistance and repairs.
Once you have made an auto claim, you can check its status online.
Considerations for Finding the Best Car Insurance Company
The right car insurance can be a really smart purchase. Knowing that you're prepared in case of an accident can provide instant peace of mind. If an accident does happen, you will know you have coverage to help pay for medical expenses and property damage. The right coverage can also save you a lot of hassle. Great car insurance should have great claim service. After an accident, claim service professionals should be able to help you with towing your vehicle, getting a rental, finding qualified repair shops, and dealing with other insurance companies or drivers.
But don't just take our word for it, read what actual; customers have to say about their experiences with car insurance from The Hartford.
"Top efficiency is standard at The Hartford … I've worked with many insurance companies over the years and they are by far the best in their field … I will always insure with them now and in the future …"
*****
"My experience with The Hartford has been nothing but the best. The claim was taken care of in a blink of an eye."
*****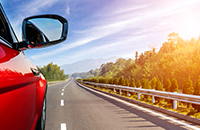 "I would have to say that The Hartford was exceptional with their claims coverage, helped with all the rental car arrangements, arranging payment for repair of car and also gave us the repair shop information. This experience was very exceptional in that I did not have any lapse in driving to and from work. The Hartford claims reps are the best of the best. Thank you."