Obtenga una excelente cobertura en minutos
Solo debe hacer unos cuantos clics.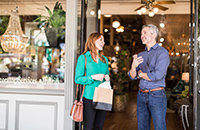 Business insurance protects businesses and their employees from the liabilities they face daily on the job. In some cases, like for businesses with employees, certain coverages may even be legally required. That's why it's important to understand the laws in your state and the liability of your business. It's also important to understand what liability insurance covers so you know which policies are right for your business.
What To Know About Your Small Business
You've invested a lot of time, energy and effort into your small business. If you've asked yourself, "Do I need insurance for my small business?" The answer is yes. Un
small business insurance
policy can help with protecting your assets and company. Without this coverage, small businesses may have to pay to repair or replace damaged or destroyed property on their own. This can put your small business' finances at risk.
Let's say a fire breaks out in the building you're renting, causing severe property damage. A commercial property insurance policy could help cover your repair or replacement costs. But without it, you'll have to pay those costs out of pocket.
Every small business is different and faces unique risks. This means there isn't a one-size-fits-all approach for finding the right small business insurance. Un
sole proprietorship's insurance
coverage may be different than the coverage an LLC needs. As you research your options, you should have certain business details ahead of time to help you get the
best small business insurance
, including your:
Business type
Number of employees
Business' organizational chart
Gross annual sales
5 Types of Insurance You Need for Your Small Business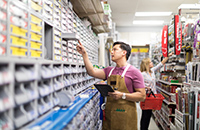 What insurance do you need for a small business?
A range of small business insurance products can help protect you and your business from different risks. Many small businesses buy these types of insurance:
You can also buy a
Póliza para propietarios de empresas
(BOP), which combines commercial property, general liability and business income insurance into one policy. This means you can make one convenient payment for all three coverages and save money.
Add-On Small Business Insurance Coverages
We make it easy to add more coverage to increase your small business' protection. For example, adding
data breach coverage
can help cover your expenses to respond to a data breach.
You may also want to add
business income insurance
, also known as business interruption insurance. This helps replace lost income if your business is unable to operate due to covered property damage.
Every state
has its own regulations on the insurance coverages that small business owners need to carry. For instance, most states require small businesses with employees to carry workers' compensation. That's because if your employees get hurt or sick from their job, their health insurance policy may not cover it.
Get an Insurance Quote Today From The Hartford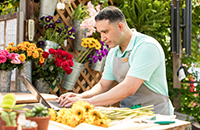 If you're wondering, "How much insurance coverage do I need?" Or "
How do I get small business liability insurance
?" we can help. We're ranked as a
top digital small business insurance
company. Not all insurance companies are the same. We're backed by over 200 years of experience and our small business insurance team has been helping companies like yours for over 30 years. In fact, over 1 million small business owners in the U.S. trust us to protect their companies.
We'll work with you to understand your business' needs so you can have peace of mind knowing we've got your back.
Get a Small Business Insurance Quote Today
Whether you're in the retail, construction or financial services industry, most small business owners need small business insurance. Having it can help protect the livelihood you've worked so hard to build. The right small business coverage can help cover expensive damage and lawsuits from:
Accidents
Natural disasters
Professional errors
Workers' comp claims
More Answers to Frequently Asked Small Business Insurance Questions