What Is Business Income Insurance?
Business income insurance is a type of
seguro de negocio
that helps you replace lost income resulting from:
Fire damage
Robo
Wind damage
Business income insurance acts as business interruption coverage or income protection insurance. For example, say your business is unable to operate and generate revenue due to covered property damage. This includes damage from a fire, wind or theft. Your business income insurance may help cover your costs until your business is up and running again. This way you can continue to pay expenses, such as payroll and monthly bills, while your business property is being repaired or replaced.
Best of all, business income is already included in a business owner's policy from The Hartford. You can easily increase coverage to meet specific risks by choosing from a variety of optional coverages. You can add these coverages as endorsements to your existing business owner's policy.
Who Needs Business Income Insurance?
You should consider endorsements if your business relies on:
A physical location
Equipos
Other property to generate income
For example, the businesses outlined below may need business income insurance endorsements:
Software companies that rely on physical property and digital property. This includes offices, computers, servers and cloud storage.
Service businesses such as hair salons that depend on a physical location and tools to serve customers.
Retail stores and businesses that need online or brick-and-mortar storefronts to display products.
What Does Business Income Insurance Cover?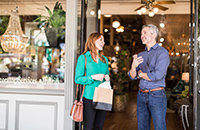 We designed this insurance to help protect business's income from a variety of risks. If you can't run your business because of covered property damage, like a fire, this coverage can help replace some of the lost income. However, you won't receive coverage if you can't run your business because of an accident or illness. To ensure our coverage is comprehensive, we offer a broad range of insurance options. Each can be added to an existing Business Owners Policy.
Business Income Extension for Essential Personnel
It can be difficult for businesses to continue operations when employees are unexpectedly absent. If this happens, business income insurance can help cover the cost of lost business earnings. It can also help cover extra expenses resulting from an employee absence. This allows you to continue to run your business.
Business Income Extension for Cloud Service Interruption
Many businesses depend on cloud storage operations to maintain data. They often use cloud storage to transfer important files to:
Vendors
Clients
Empleados
This optional coverage can help cover income lost due to an unplanned and unexpected outage of your business's cloud service.
Business Income Extension for Off Premises Operations
The risk of damage to equipment and tools may increase when businesses are working at an off premises job-site. For example, say you own a construction company and you have to stop working when you notice equipment got damaged on a jobsite. Business income extension insurance can help cover the resulting lost income. It can also help cover costs for renting replacement equipment.
Business Income Extension for Off Premises Utility Services
This coverage can help cover lost income and additional expenses that result from a disruption in off premises utilities. This includes power, communications and water services that get interrupted.
Business Income for Dependent Properties
Many businesses depend on third parties to operate. Examples of third parties include:
A shipper who delivers products that you need in order to do business with clients
A manufacturer who builds your product
An anchor store whose customers or employees do business with you
If a third party is unable to operate due to a covered loss, your business may suffer. Business Income From Dependent Properties can help cover lost business income resulting from a third party that doesn't deliver products or services your business relies on.
Business Income Extension for Electronic Vandalism
Businesses fall victim to electronic attacks more than you may realize. This extension is an optional coverage to help protect you in case of electronic attacks. For example, say your business's website gets attacked. As a result, this prevents you from generating business. This coverage can help cover the resulting loss of income.
Extended Business Income
Many businesses have trouble regaining their prior level of income after a covered peril or event occurs. For example, say your pet grooming business closes for several weeks due to a covered loss. Upon reopening, you may find that many of your old customers found new pet groomers. Extended business income coverage can help replace the lost income while you build back your business.
Why Choose The Hartford for Business Income Insurance?
The Hartford has been insuring businesses for over 200 years. We're committed to making it easy for our small business customers to help protect their hard-earned income. That's why we offer you the ability to customize our insurance coverage beyond what's included in your Business Owner's Policy. Through us, you can add specific business income coverage endorsements to your existing policy.
You can get additional coverage to address the specific risks your business faces. You'll be able to do this all while enjoying the convenience of managing one policy and paying one bill. You also get access to our industry leading customer support and response times.
To learn how The Hartford can help protect your business, talk to an agent or
get a Business Income Insurance quote
en línea.
More Answers to Frequently Asked Business Income Insurance Questions