Obtenga una excelente cobertura en minutos
Solo debe hacer unos cuantos clics.
Choose The Hartford for Your Small Business Insurance in California

Small businesses make up over 99% of companies in California, employing nearly half of the Golden State's employees.
1,2
In order to run successful companies and protect their employees, small business owners rely on
seguro de negocio
.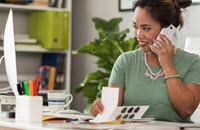 When looking for coverage for your business, it's important to know that not all insurance companies are the same. We're backed by more than 200 years of experience and are proud to have helped over 1 million small business owners. Whether your business is in San Francisco, Beverly Hills, Santa Rosa or elsewhere in the state, we're here to help protect your company.
Learn how you can get business insurance in California and how it can help you run a successful company.
Types of California Business Insurance Coverages Offered
California Business Owner's Policy
Many businesses in California get a Business Owner's Policy (BOP) as their insurance foundation. This ensures they have:
General liability insurance
Commercial property insurance
Business income insurance
A BOP can help protect your Golden State small business from claims that can come up during normal business operations. You'll want to get a BOP if your business:
Could get sued for causing injuries or property damage to a third party
Has a rented or owned physical location
Uses physical or digital property that can get broken or stolen
General Liability Insurance in California
General liability insurance
helps protect your business from claims that it caused bodily injury or property damage. This coverage is also known as commercial general liability and business liability insurance.
Business liability insurance in California can help your business if:
You accidentally damage a customer's property while on the job
A customer slips and falls and gets injured at your business
Your business gets sued for slanderous comments you made about a competitor in an interview
Commercial Property Insurance in California
Commercial property insurance
helps protect the owned or rented building you operate out of, as well as the equipment used to run your business. If your business' building or property gets damaged, this insurance can help cover the repair and replacement costs.
California Business Income Insurance
California business income insurance helps replace your lost income if you can't open because of covered property damage, such as:
Minimum Liability Insurance in California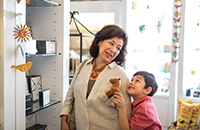 General liability insurance isn't typically required for businesses in California, but be aware that the state doesn't put a cap on liability lawsuit rewards. So, it makes sense to protect your business from potentially devastating costs of a large liability claim. A good rule of thumb is to get a minimum of $1 million in liability coverage, or at least an amount equal to the total value of your assets.
California Workers' Compensation Insurance
Pay for medical expenses
Cover ongoing care costs
Replace lost wages
Falls on the ice while walking into the office and has to spend time away from work to recover
Injures their back while lifting a box in the workplace and has to go to the doctor for treatment, medication and physical therapy
Gets hurt in a car accident while driving to make a delivery
California Commercial Auto Insurance
California commercial auto insurance helps keep you and your employees safe on the road if you drive for business.
Commercial auto insurance
is important if your business:
Owns, rents or leases cars or trucks
Has employees driving their own vehicles for business-related activities
Allows employees to drive company-owned vehicles
Professional Liability Insurance in California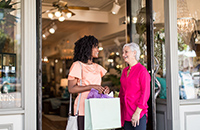 Mistakes happen on the job all the time. When they do, they have the potential to shut down your small business. If a mistake causes your customer financial harm, they can sue you.
Professional liability insurance
helps protect your business if you make a mistake in the professional services you provide which causes a customer financial harm. This coverage can help pay for your legal defense costs and settlements or judgments.
Industries Covered by Commercial Insurance in California
Our business insurance coverages can help many kinds of industries in California. A few industries we provide coverage for include:
How Much Is Business Insurance in California?
Every business is unique and has different needs. That's why it's helpful to get a
business insurance quote
since insurance premiums can vary widely between business owners. When you get coverage, insurers can look at different factors to come up with your rate, such as your:
Business' location
Tipo de trabajo
Claims history
We understand there's not a one-size-fits-all business insurance policy. We make it our business to know the unique risks that every industry faces and we've helped over 1 million small business owners get the insurance coverage they need. So, whether you need an insurance quote, proof of insurance or help filing a claim, our specialists are here to help.
1,2 U.S. Small Business Administration, "2019 Small Business Profile: California"
City Business Insurance
Links to California Workers' Compensation Insurance Pages
California Professional Liability Insurance
More Answers to Frequently Asked Business Insurance Questions