¿Busca una cobertura de seguro para negocios?
We've partnered with Tivly to help you get the coverage you're looking for.
Get the Coverage You Need for Commercial Auto Insurance in Florida

Florida is home to 3 million small businesses that employ 40.5% of employees across the state.
1
And we're proud to help protect so many of them. In fact, more than 1 million small business owners across the country trust The Hartford. So, if you're wondering, "
What is commercial auto insurance?
" we're here to help.
If your small business owns any company vehicles that you or your employees drive for work, you'll need
el seguro comercial para automóviles
. This coverage helps pay for property damage costs and medical expenses if you or one of your employees is in a car accident while driving a business vehicle for work.
Am I Required To Have Commercial Auto Insurance in Florida?
Florida state law requires businesses that own, rent or lease vehicles for work to have commercial auto insurance coverage. You'll also need it if your employees use their personal vehicles for business. With commercial auto insurance, you won't have to pay out of pocket for costly claims, like property damage or bodily injury, resulting from an auto accident involving you or one of your employees.
What Is the Minimum Coverage for Florida Commercial Auto Insurance?
In Florida, all vehicles are required to have a minimum amount of auto insurance coverage for both personal and commercial use. Florida's minimum liability coverage limits are $10,000 in personal injury protection (PIP) and $10,000 in property damage liability.2
Keep in mind that these are the state minimum requirements. Your insurance company may recommend that you increase your coverage limits based on the types of vehicles you own and how they're used.
What Types of Businesses Need Commercial Auto Insurance in Florida?
If your Florida business uses any types of vehicles like cars, pickup trucks, box trucks or commercial vans for work purposes, commercial vehicle coverage will help safeguard your operations. Some examples of commercial auto insurance for certain types of vehicles include:
Box Truck Insurance
Box truck insurance
is a type of commercial auto insurance that's designed specifically for businesses that use box trucks or straight trucks for work purposes.
Commercial Van Insurance
Commercial van insurance
is a type of commercial auto insurance that protects your company-owned vans used for business.
What Does Florida Commercial Auto Insurance Cover?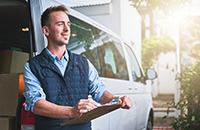 If your business depends on any company vehicles to get the job done, you'll need commercial car insurance to keep you and your employees protected. In the Sunshine State, commercial auto insurance policies commonly include the following coverages:
Bodily Injury Liability Insurance Coverage helps pay for the other driver's medical expenses if you or one of your employees causes an accident.
Property Damage Liability Insurance Coverage pays for damage that you or your employees cause to someone else's property.
Drive Other Car Coverage covers your business' executive officers and their spouses if they drive vehicles that aren't on your commercial auto insurance policy.
Collision Coverage helps pay to fix or replace your business' car if you hit something, like another car or pole.
Comprehensive Coverage can help pay for damage to your car caused by theft, fire or natural disasters.
Medical Payments Coverage can help pay for medical expenses for your employees and their passengers in the event of an accident, such as medical treatments and rehabilitations, dental care or funerals.
Uninsured/Underinsured Motorist Coverage helps pay for you or your employees' medical expenses or to fix your car if you're in an accident with another driver who doesn't have enough liability coverage or is uninsured.
Hired and non-owned auto insurance offers lawsuit liability coverage if you or your employees are involved in an accident with a personal, rented or leased car that was used for business errands. However, this type of commercial vehicle insurance coverage won't pay for damages to the personal, rented or leased car.
How Much Does Commercial Auto Insurance in Florida Cost?
Your Florida commercial auto insurance cost is heavily dependent on your industry and the types of vehicles your business operates. There are also several other factors that may influence the cost of your commercial auto coverage, including the:
Type of business you have
Type of vehicle(s) your employee drives
Driving record of your employees
Typical travel radius driven
Type of load the company vehicle typically carries
Location of your company
What Professions Need Commercial Vehicle Insurance in Florida?
Although insurance requirements and availability will vary, there are many types of professions that need commercial auto insurance in Florida. The most common industries are:
Florida Commercial Auto Insurance FAQs
Get a Fast and Free Quote for Florida Commercial Auto Insurance
We make it easy for you to get a fast and free quote for Florida commercial auto insurance. We're an insurance company with more than 200 years of experience helping over 1 million small businesses get the protection they need. Llame al
855-860-9763
to get a free quote for commercial auto insurance today.
Choose The Hartford for Commercial Car Insurance
All business owners face unique risks. We can work to customize policies to help meet the specific needs of your business.
Our experienced claims specialists are ready to help expedite a claim to get you back on the road – and back to business.
Our commercial auto insurance offers extra protection for your business at no additional cost.
More Answers to Frequently Asked Commercial Auto Questions