Obtenga una excelente cobertura en minutos
Solo debe hacer unos cuantos clics.
Choose The Hartford for Your Washington Business Insurance Needs

The Evergreen State is home to more than 590,000 small businesses.
1
These small businesses make up nearly every company in Washington and employ over half of the state's workforce. If you run your own business, chances are you know why having
seguro de negocio
is so important. It helps business owners run successful companies by protecting them from different risks.
When it comes to business insurance, Washington companies can work with us to get the right coverage. Whether you need a quote or help filing a claim, we've got your back.
Types of Business Insurance in Washington State
Washington Business Owner's Policy
It's a good idea to get a BOP if your Washington business has:
A physical location or business equipment that's rented or owned
The potential to get sued by a customer for an injury or property damage
Assets, like furniture or customer data, that can be stolen, damaged or destroyed
Washington Workers' Compensation Insurance
Washington is one of four monopolistic states. This means businesses can't get
workers' compensation insurance
through private carriers and can only get coverage through a state fund or by self-insurance.
Workers' compensation insurance, also known as workers' comp, gives benefits to your employees to help them recover from a work-related injury or illness. Estos beneficios incluyen:
Help paying for medical treatment
Partial replacement of lost wages
Disability benefits
It can also give a deceased worker's family financial benefits to help cover funeral costs.
This insurance can help protect your Washington business if one of your employees:
Trips on a torn carpet in the break room and requires an emergency room visit.
Hurts their back carrying office supplies to the copy room and needs physical therapy.
Gets injured in a car accident while returning from a client meeting.
General Liability Insurance in Washington State
General liability insurance helps protect you from claims of bodily injury and property damage. It also helps protect businesses from claims of:
Advertising injury
Libel
Slander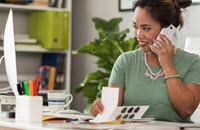 For example, one of your employees accidentally puts a hole in the wall and scratches the wood floors while delivering an item to a client's home in Seattle, Washington. General liability insurance can help cover the repair bills to fix the hole. Without coverage, your business would have to pay these costs out of pocket.
For higher liability risks, we also offer Specialty General Liability coverage. Our underwriters, risk engineering consultants and liability claims specialists have experience in hard-to-place products and premises risks.
Washington Data Breach Insurance
Washington businesses may store sensitive or confidential customer information, such as:
Social Security numbers
Credit or debit card numbers
Names, phone numbers and addresses
This type of information puts businesses at risk of a cyberattack or data breach.
Data breach insurance
and cyber liability insurance help cover the costs for your business to respond to a cyber-attack or breach. Depending on the level of coverage you choose, this insurance can help pay for:
Las relaciones públicas
Crisis communications support
Legal counsel
Credit monitoring services to impacted customers
Our cyber insurance can help your Washington business:
Prepare for a data breach before any data gets compromised. Our team can advise your business on security measures and policies to put in place before there's an incident.
Quickly respond to a data breach. Immediately responding cuts the impact to their customers and business.
Washington Professional Liability Insurance
Professional liability insurance
, also known as errors and omissions insurance, helps your Washington business if a customer or client sues you for a mistake in the professional services given. It can help cover your legal costs and any judgments or settlements. If your business provides a service to customers, it's a good idea to get this type of insurance.
Washington Minimum Business Insurance Requirements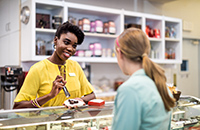 Any business in Washington with employees must have workers' comp insurance. Most businesses get coverage through a state fund. But if your company has at least $25 million in assets or is a government entity, you may qualify for self-insurance.
2
Washington also requires construction trades to register as contractors. This requires bonding and insurance. Be aware that marketing or bidding for a construction job requires you to register as a
contractor
.
3
Get a Washington Business Insurance Quote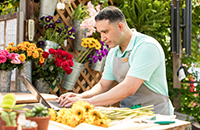 It's important to work with an insurance company that you can rely on. We're backed by over 200 years of experience and know that every business is unique. We can help you get the right Washington business insurance coverages to meet your business' needs.
Get a quote
and start protecting your business today.
Additional Washington Business Insurance Links
1 Small Business Administration, "2018 Small Business Profile: Washington"
2 Washington State Department of Labor & Industries, "Employers' Guide to Self-Insurance in Washington State"
Links to Washington Workers' Compensation Insurance Pages
More Answers to Frequently Asked Business Insurance Questions