Obtenga una excelente cobertura en minutos
Solo debe hacer unos cuantos clics.
Choose The Hartford for Your Montana Business Insurance Needs

Known for its vast outdoor space and one of the top ranked business climates in the U.S., many business owners are building their companies in Montana.
1
In fact, Big Sky Country is home to more than 123,000 small businesses.
2
These companies make up nearly all businesses in the state and employ over 65% of Montana's employees.
3
It's clear that small businesses play a big role in Montana. At The Hartford, we're dedicated to helping these small business owners and keeping them protected.
Our Montana (MT) business insurance has kept companies in the state protected for years. We're proud to partner with small business owners and get them the kind of coverage they need for the unique risks they face. Whether your business is in Billings, Helena, Bozeman or anywhere else in Montana, we'll help you get the
seguro de negocio
coverage that fits you best.
Types of Montana Business Insurance Offered
There are many options to choose from when it comes to small business insurance. MT businesses are all different and have unique needs. Our specialists can help you get the right coverage for your specific business. Some coverages that many small business owners get include:
Montana Business Owner's Policy
With a Business Owner's Policy (BOP), you'll get three essential coverages to help protect your business from bodily injury and property damage risks. A BOP includes:
General liability insurance
Commercial property insurance
Business income insurance
We also make it easy for you to customize your BOP. Because every business has unique needs, you can get the coverages to help protect your Montana business.
Consider getting a BOP if your business has:
Digital or physical property that can get stolen or damaged, like tools, inventory or furniture.
Clients or employees that may sue you if they get hurt at your business.
A physical location, like a rented or owned office, that's open to the public.
General Liability Insurance in Montana
Lesiones corporales
Property damage to someone else's belongings
Personal injury, like libel or slander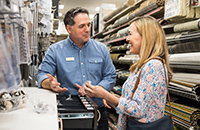 This coverage is also known as commercial general liability insurance or business liability insurance. General liability insurance in Montana can help protect your business from risks that come up during normal operations.
Montana general liability insurance coverage can help your business if your:
Employee working at a customer's home in Bozeman breaks their window while moving equipment.
Rented equipment for your Missoula business gets damaged from a fire.
Customer sues you after slipping and falling on a wet floor in your Helena business.
Montana Professional Liability Insurance
Negligence
Errors
Omissions
For example, let's say your business accidentally deletes photos of your client's wedding. They can sue your company for the mistake and your business could be responsible for damages.
Many types of businesses need professional liability insurance, including:
Montana Data Breach Insurance
Data breaches put your business' reputation on the line. That's why it's important to respond immediately if your business suffers a breach and loses personally identifiable information. Responding quickly can reduce the impact on your customers, employees and business. Plus, it can help restore the public's confidence in your business.
Data breach insurance
, which some insurance companies call cyber liability insurance, can help cover your costs for:
Legal fees
Identify protection solutions
Public relations to improve your business' reputation
Notifying impacted individuals and customers
Workers' Compensation Insurance in MT
Workers' compensation insurance
gives your employees benefits for work-related injuries or illnesses. Montana requires all businesses to have this coverage.
4
It can help pay for:
Atención médica
Wages from lost work time
Funeral expenses if a worker loses their life in a work accident
If your employee or their family sues your Montana business, workers' compensation insurance can also help cover your legal fees.
Commercial Auto Insurance in Montana
If your business owns vehicles that you or your employees use for work,
el seguro comercial para automóviles
is a good idea to have. It can help keep your employees safe while on the road. If you or any of your employees get into an accident while driving commercial vehicles for business, it can help cover claims of property damage or bodily injury.
Montana Minimum Business Insurance Requirements
Employers in Montana need to carry workers' compensation insurance. Business owners can get coverage through:
Self-insurance
Private insurance companies
Montana state fund
How Much Is Small Business Insurance Per Month?
There's no one-size-fits-all insurance policy, which means the cost of small business insurance varies. It can cost your business several hundred to a few thousand dollars a year.
Every business is unique and needs different coverages. The best way to figure out how much it'll cost you is to get a
business insurance quote
.
MT Business Insurance Wherever You Are
Wherever you are in Montana, our specialists can work with you to create a business insurance policy unique to your company. We can help you get:
Business insurance in Bozeman, MT
Business insurance in Billings, MT
Business insurance is Missoula, MT
Business insurance in Butte, MT
Business insurance in Great Falls, MT
Business insurance in Helena, MT
Business insurance in Kalispell, MT
Links to Montana Workers' Compensation Insurance Pages
More Answers to Frequently Asked Business Insurance Questions