Obtenga una excelente cobertura en minutos
Solo debe hacer unos cuantos clics.
Choose The Hartford for Your Colorado Small Business Insurance Needs

Colorado has seen significant growth regarding small businesses the last few years. In fact, 99.5% of Colorado businesses are small businesses who employ 1.2 million people in the state.
1
Business owners should familiarize themselves with each type of
seguro de negocio
available so they can determine what's best for their unique business.
We're an insurance company that has served Colorado businesses for more than 200 years and are here to help protect your operation with the business insurance coverages you need. We're also a commercial auto insurer and can help cover your company vehicles and their drivers. To learn more, read about the types of
small business insurance
we offer.
Types of Colorado Business Insurance Offered
General Liability Insurance Colorado
Lesiones corporales
Daños a la propiedad
Reputational harm
Advertising errors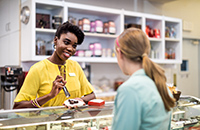 General liability insurance is very valuable because it is one of the broadest policies available. You can purchase it as a stand-alone policy, but it is also included in our Business Owner's Policy (BOP).
We've been helping protect small businesses with general liability insurance for more than 200 years. Our general liability policies can help if you get sued for:
A copyright infringement related to your advertising
Reputation harm including libel, slander, wrongful eviction or violation of privacy
A customer injury in your office
Business Liability Insurance Colorado
You can add
el seguro de responsabilidad comercial
into our
Business Owner's Policy (BOP)
insurance protection. A BOP is a type of insurance that's essential for a small business owner because it helps cover damages caused by disasters, theft and fires. It also helps cover claims involving property damage, data breaches, bodily injury and advertising injury.
Business owners can tailor this coverage to meet their specific needs. For instance, you may want to add on additional coverages like data breach insurance. Consider a BOP with us to help protect your business in case of the following:
Your merchandise is stolen or damaged
A customer sustains an injury at your workplace and can sue you to cover their medical expenses
Your business has a physical location, whether it's owned or rented space, that could be damaged by a fire
Professional Liability Insurance Colorado
Professional liability insurance
can help protect your business from errors or omissions in your professional services. This can include losing a client's wedding footage if you're a videographer or if you make a clerical error in your accounting services that costs your client money. While these situations are accidental, they still can result in legal repercussions that are potentially costly.
You should consider getting a professional liability insurance policy if you're classified as one of the following business types:
Technology professionals
Travel agent
Interior designer
Accounting and tax professionals
Consultant professionals
Colorado Commercial Property Insurance
Equipos
Building
Tools
Inventario
Muebles
A commercial property insurance policy can help protect your business from scenarios like:
A fire resulting in the loss of a business' manufacturing warehouse and equipment
Your office getting broken into and equipment getting stolen
A severe windstorm causing a tree to fall and break through your storefront, closing your business for multiple days while you have it fixed
Does Colorado Require Business Insurance?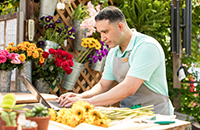 The state of Colorado requires you to have
el seguro de compensación para trabajadores
for all employees. You'll also need
el seguro comercial para automóviles
for vehicles used by the company and professional liability insurance for select professions, like doctors and health professionals.
2
The Colorado Department of Regulatory Agencies (DORA) strongly recommends that business owners consider purchasing business insurance coverages like liability insurance to help protect their businesses from liability claims related to their:
Productos
Servicios
Workplace
Businesses are also required to pay unemployment insurance tax depending on their employees paid wages and number of hours worked. We've been providing small business insurance for thousands of Colorado businesses and can assist you in better protecting your business and employees.
How Much Does Business Insurance Cost in Colorado?
The amount you'll pay for business insurance varies. Your cost depends on various factors, including the type of coverage your business needs. For example, our customers paid an average of $916 annually, or $76 a month, for business insurance coverage in Colorado. For workers' compensation insurance, customers in Colorado paid an average of $759 annually, or about $63 a month.3
Insurance companies use different factors to determine costs.. Some factors that impact how much you'll pay can include your:
Risk exposure
Business location
Years in business
Type of business
Límites de la cobertura
Claims history
Additional Colorado Business Insurance Links
Last Updated: November 15, 2023
1 U.S. Small Business Administration, "2021 Small Business Profile"
2 Colorado Department of Regulatory Agencies: Division of Insurance, "Small Business Insurance
3 Premium amounts presented are based on monthly premium paid by The Hartford's Small Business customers between 1/1/22 and 9/14/23 for 12-month policies. Premium is derived from a number of factors specific to your business and may vary.
City Business Insurance
Links to Colorado Workers' Compensation Insurance Pages
More Answers to Frequently Asked Business Insurance Questions