Obtenga una excelente cobertura en minutos
Solo debe hacer unos cuantos clics.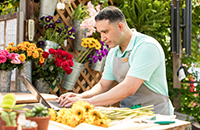 Starting a small business is a lot of hard work and can be overwhelming. That's why we created this small business startup checklist to help as you get going. This list can help make sure you're giving your business a good foundation and starting it off on the right foot.
Small Business Startup Checklist: 10 Things To Do
1. Determine the Viability of Your Business Idea
Before you start your small business, it's important to make sure you have a strong foundation. To do so, make sure you have a business idea that meets customers' needs. Base your business idea on market research to help you:
Identify customer habits, trends and needs
Determine the best way to market your product and service
Get feedback on your idea or proposal
Doing your due diligence can help you save time, energy and money before opening a business.
2. Decide on Your Business Structure
Su
business structure
is an important decision that can impact other areas of your company, like:
Impuestos
Licenses
Insurance needs
Some common small business startup structures include:
3. Write a Business Plan
There are many ways to write a business plan, but it's a good idea to include these five components:
Executive summary. Think of this as your elevator pitch. It can include a table of contents, background, market opportunity and competitive advantages.
Business description and structure to explain why you want to start a business and what you're selling.
Market research and strategies, which can include sales forecasts and how your business compares to the competition.
Management and personal bios to explain who is leading the company.
Financial documents to back up everything you've described in your organization and marketing sections.
4. Obtain Licenses and Permits
Depending on the industry you're in, you may have to get certain business licenses and permits. For example, if you operate an agriculture business that can impact the environment, federal law requires you to get a license. Or if you set up a retail business, you may have to get a sales tax permit in your state.
With laws varying between states, it's important to know what's required of your small business before you ever open.
5. Register Your Business
Registering your business gives you more credibility with customers and clients.
When you register your business, you'll file paperwork with your state and the IRS. Be aware that you may have to get the appropriate permits and licenses before you can register your company.
6. Get Your Finances in Order
Before you start your business, it's essential that you have your finances in order. While
financing a startup
requires time and effort, it's equally important to set up a business banking account to separate your company's funds from your personal money.
If you've already registered your business with the IRS, you should have gotten an employer identification number (EIN). You'll use your EIN to file your business' taxes each year. it easier when the
business tax deadline
gets closer.
7. Find an Office or Retail Space
There are plenty of options to consider for your business location. Depending on the type of business you plan on running, you can:
Work from home
Lease or buy an office or brick-and-mortar location
Create a virtual office
Whether you have a physical or virtual location, it's essential to get
commercial property insurance
. This coverage can help protect your owned or rented building and the equipment you use to operate your business.
8. Get the Word Out
Marketing your business plays a key role in your success. You can increase your small business' visibility by:
Creating a website
Starting social media accounts and engaging with the public
Handing out business cards
Marketing for startups
doesn't have to be intimidating. It can help you create your own brand and have a strategy to expand and grow.
9. Find a Mentor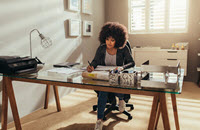 Opening and running a small business is a big investment and will require a lot of work. If this is your first time starting a company, you'll likely face challenges and questions that you don't know the answers to. A good way to help you stay on the right track is to find a mentor.
There are a variety of organizations that pair new business owners with experienced mentors.
SCORE
, for example, has over 10,000 volunteer mentors who can help small business owners thrive.
10. Follow Our Insurance for New Business Checklist
When you open your doors for business, you'll immediately face all different types of risks. Some of the most common claims are from customers who claim bodily injury or property damage against a business. These claims happen often, and that's why small business insurance is so important.
We're here to help make sure you check off all the boxes when it comes to getting the right coverage. We offer different types of business insurance based on your unique needs. Common coverages that many small business owners choose include our:
When Starting a New Business, The Hartford Has Your Back
We know starting a small business takes a lot of work. It's why we created this small business startup checklist to help you open with a strong foundation. And we understand you may face unique risks when you open. We can help answer questions like, "
What does compensation mean?
"
We are an
admitted insurance
company. We've helped over 1 million small business owners, so we know the challenges you face. Our specialists are here to help you and answer questions you have about coverage.
More Answers to Frequently Asked Small Business Insurance Questions