Obtenga una excelente cobertura en minutos
Solo debe hacer unos cuantos clics.
Common Insurance Myths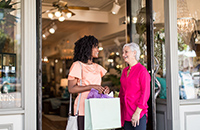 Small business insurance
helps you protect what matters to you most. Whether that's your car, business, home, family, or all of the above. The Hartford has the insurance coverages you need to help protect what you care about.
Some coverages we offer include:
Data breach insurance
, also known as cyber insurance, to help protect your business from data breaches. Even if your small business follows
data protection rules
, sensitive customer information can still be at risk of getting stolen. If someone breaks into your business and steals a computer with customer information, this coverage can help cover the costs related to the theft of the personal identifiable information. A separate coverage, property insurance, could help cover the cost of the stolen computer.
Workers' compensation insurance
to help provide benefits to your employees after they've suffered a work-related injury or illness. For example, if you own a construction company and one of your workers breaks their leg on the job, workers' compensation insurance can help cover costs associated with their medical bills.
Commercial property insurance
to help protect your business' physical property. If your building catches on fire, your commercial property insurance can help cover the damages to your business' property. Commercial property insurance also provides
business renters insurance
for rentals.
General liability insurance
to help cover injuries that may occur in your business, like a customer slipping on your store's freshly mopped floor and breaking their ankle. Your general liability coverage can help cover the costs associated. This insurance can also help cover any personal injuries that may occur in your business.
Professional liability insurance
to help protect you and your employees from the costs associated with professional mistakes. Take law firms, for example. If one of your employees provides a client with false information, professional liability insurance can help cover the costs associated with that mistake.
Many of these coverages can be extended and customized through
insurance riders
to address various risks.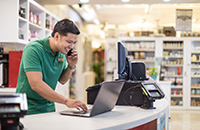 Buying insurance can feel overwhelming. As you prepare to get coverage, it's important to debunk any misconceptions you may have. For example, many people think that red cars cost more to insure than other cars. Generally, the color of your car doesn't determine your insurance price.
Another common misconception is that getting a traffic ticket will increase the price of your coverage. This isn't always the case. It depends on your previous record and the reason for the ticket.
These are only a few common business insurance myths. The good news is that insurance isn't as complicated as you may think. Our representatives are here to walk you through the process and find the coverage you need. We love supporting small businesses and strive to provide exceptional service.
The Truth About Insurance Companies
Whether your business is a home-based business or has a store front, you'll want to understand how insurance companies work.
The first truth when it comes to insurance is that it helps protect you from financial loss. To uncover more truths about insurance, consider the following myths:
Insurance rates drop once you turn 25. There are no insurance discounts applied for turning 25. That said, the older you get, the more likely it is that you'll see favorable rates.
Your rate isn't affected by your credit. In most cases, your credit score will be used to set your rate.
Higher priced cars cost more to insure. Repair costs affect your premium more than the price of your car.
State-minimum liability insurance is all you need. The minimum insurance amount required by your state is not likely going to be enough coverage. Our representatives can help you determine the correct amount. This is usually based on things like your personal driving history and finances.
Comprehensive insurance covers all your insurance needs. This is not the case. Comprehensive auto coverage can help cover collisions with animals. It can also help cover damages that result from weather or fire.
You don't need any other coverage if your policy says "full coverage." When insurance companies reference "full coverage," it doesn't mean it covers everything. Generally, it means that you'll have full coverage when you add comprehensive and collision coverage to your policy.
You can negotiate your insurance rate down. We calculate our rates from a variety of factors and once they're calculated, we can't change them.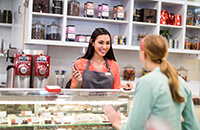 The biggest myth of all is that insurance companies are only out to make as much money as possible. In reality, insurance companies are a resource to help small businesses protect their assets. The Hartford has been a trusted source for insurance for over 200 years and we're committed to providing you with the protection your small business needs.
To figure out your coverage needs, simply call one of our representatives who will help you determine your policy.
It's important to remember that deductibles and premiums balance each other out. For instance, the higher premium you pay, the lower your deductible and vice versa.
As a business owner, consider your deductible and premiums carefully. Plans with lower deductibles offer more predictable costs. Although the higher premiums can be difficult to fit into your budget. The good news is that the choice is yours when it comes to deductibles and premiums for your business.
Get the Most From Your Business Insurance From The Hartford
Our main goal is to help individuals and small business owners succeed. Even though we addressed myths above, we can still do more for you. Our representatives will be happy to answer any questions you may have about the insurance coverage process.
We're available to help you find the right insurance from 8 a.m. to 7 p.m. and our claims representatives are available 24 hours a day.
We're always striving to be the best insurance company possible. That's why we became the first insurance provider to offer a dedicated small business service center in 1983, over 30 years ago. Today, we serve more than one million small businesses.
1
We've also been highly rated by our own customers who have
rated their experience
with us as a 4.8 out of 5.*
More Answers to Frequently Asked Small Business Insurance Questions