Obtenga una excelente cobertura en minutos
Solo debe hacer unos cuantos clics.
How To Protect Your Small Business From Lawsuits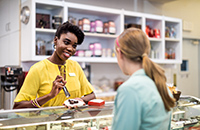 As a small business owner who's just starting out, everything is new and exciting. However, it's easy to overlook the risks that come with owning a business. On top of this, it can be very time consuming to learn the proper employment practices, but not doing so can be detrimental to your success. In fact, many small businesses fail to plan for critical risks that could lead to problems down the road. To avoid this, you can future proof your business from the beginning with
small business insurance
. Getting the right insurance coverage can help pay for lawsuits filed against you, whether they're claiming a personal injury or property damage.
To learn more about how to protect your small business, follow these steps:
When you start a business, the biggest financial risk is running out of cash before you can prove your success. You can avoid this by planning now to get ahead of the revenue growth curve.
As a small business owner, cash flow is at the heart of almost everything you do and think about. You'll need a solid financial plan that includes your fixed and variable costs, as well as expected revenue and growth. This allows you to forecast money coming in and out over the months and years.
You can also use your financial plan to assess any financing or fundraising needs. This ensures you can cover your expenses until your business starts adequately generating recurring revenue. Consider all possible sources of capital, including:
Bank loans
Private investors
Always try to protect your personal assets. You should only use your personal funds as a last resort. Putting your personal finances on the line adds more risk.
Lawsuits are rather common these days and pose a serious risk to business owners. Not only can legal fees be extremely costly, but they can also damage your reputation.
Remember the story of how one consumer
sued McDonald's after burning herself with hot coffee
in 1992? This was so costly for McDonald's that food service companies took notice. In hopes of avoiding similar legal action, they've explicitly labeled hot items ever since. Legal risks, like the one McDonald's faced, can pop up in unexpected ways. Some other legal risks to consider include:
Copyright and IP infringements
Defective products
Slips and falls at the workplace
You should research a law firm that specializes in your field to help stay protected from legal risks. They can provide legal advice, help you navigate any legal issues, or help oversee legal contracts, such as
hold harmless agreements
.
Most small business owners need business insurance. These coverages can help protect your business from claims or if your business is sued. They're also an effective way to future proof your business operation. Business insurance can also be tailored to fit a variety of operating models and types of businesses. Some of the most popular options to select are:
Professional liability insurance, which helps cover any business lawsuits claiming errors or omissions in the products or services you provide
General liability insurance for help covering property damage and bodily injury claims. Liability claims from work done away from your location can also be covered under a coverage known as products-completed operations coverage.
Business income insurance to help replace lost income if you can't operate because of covered property damage or theft
To learn more about the business insurance coverages you need,
obtener una cotización
today. We've been helping small business owners get the coverage they need for over 200 years.
Most small businesses store data, whether it's customers' addresses or credit card numbers. That's why
data breach insurance
is important for creating future-proof business models. This coverage can help your business respond quickly to data breaches. For example, if your business' computers get a virus that exposes personally identifiable information, data breach insurance can help pay the costs of responding to that breach. Without this coverage, you'd have to pay for these costs out of pocket.
One of the most important marketing strategies is building and maintaining your reputation. Your business' reputation is important for encouraging repeat business and gaining new customers. If your company is going through a digital transformation, it's also important to focus on building a strong reputation on social media platforms. Some key elements that create a strong reputation include:
Being honest with customers
Providing quality products
Delivering products and services on time
Prioritizing customer experiences
Remember, strong reputations lead to successful businesses in the long term.
Keeping your personal assets separate from your business is important. For instance, many small businesses begin as sole proprietorships because they're not as expensive to start as other business models. With these businesses, there is no legal distinction between the owner and the business itself.
While these are easy to set up, if a lawsuit is filed against you, your personal assets have no legal protection. This means your personal assets may have to pay for some or all of the claim's costs. To avoid this, you can choose a business structure like a limited liability company (LLC). This structure does separate your personal assets from any lawsuits filed against your business.
Your employees are central to the success of your business. That's why you need to make sure you can trust them. Two big staffing risks you could face include employees:
Suing you if they feel you've infringed on their rights
Misrepresenting your business
Once you bring people onboard, you'll want to provide a safe and comfortable working environment. In addition to this, you'll also want to:
Neglecting any of these requirements may put your business at risk.
Aside from cash and people, your next biggest asset is your business' property. This not only includes the physical location from which you operate, but also any equipment and inventory you own. Protecting your business property against damage, destruction and theft is critical.
While no one wants to think about catastrophic events that could put you out of business, they can happen. Failing to prepare for these risks could set you up for a devastating loss – something your small business may not be able to survive. Taking inventory of your business property can be helpful in the event of a loss. You can also put a contingency plan in place.
A solution to pending risk is insurance coverage. For instance,
commercial property insurance
can be purchased separately or as part of a Business Owner's Policy (BOP). Your BOP policy also includes
general liability insurance
, which can help cover you if someone is injured at your business. The BOP also includes business income insurance. This can help pay for lost income if you're forced to shut down due to covered property damage.
There are many optional extras for this type of policy. An insurance agent can help make sure you get the right coverage for your needs.
Future Proof Your Business With Small Business Insurance From The Hartford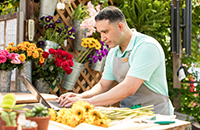 There is a lot to consider when setting up a new business. Thinking about the future and its potential risks can help you get ahead of them. There are certain factors, like market dynamics, that you can never protect yourself from. Therefore, it's important to plan for the factors you can't control. We're an insurance company that's dedicated to making sure you get the protection you need. We're also known for providing quality customer service. To learn more,
obtener una cotización
 hoy mismo.
Última actualización: 10 de junio de 2022
This article provides general information, and should not be construed as specific legal, HR, financial, insurance, tax or accounting advice. As with all matters of a legal or human resources nature, you should consult with your own legal counsel and human resources professionals. The Hartford shall not be liable for any direct, indirect, special, consequential, incidental, punitive or exemplary damages in connection with the use by you or anyone of the information provided herein.
More Answers to Frequently Asked Small Business Insurance Questions