Obtenga una excelente cobertura en minutos
Solo debe hacer unos cuantos clics.
Choose The Hartford for Small Business Insurance in Illinois

Illinois is home to 1.2 million small businesses, which make up nearly all of the companies and 45% of the workforce in the Prairie State.
1
If you're planning on launching a startup or currently own a small business in the state, it's essential to have Illinois business insurance to help you run a successful company.
Seguro para negocios
helps protect you from risks that come with normal operations. Without the right insurance coverage, you'd have to pay out of pocket for claims, which can get expensive quickly.
In Chicago, business insurance requirements vary. Our specialists can work with you to choose the right coverage to help protect your business. We've been helping business owners get the right coverage for over 100 years, and we're here to do the same for you.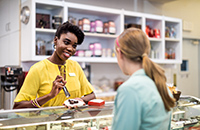 Many business owners have a Business Owner's Policy (BOP). It combines three important coverages into one:
A BOP is unique because you can customize it and add coverages to fit your business' needs.
Seguro de responsabilidad profesional
Professional liability insurance
helps cover you if customers claim that you made a mistake in the professional services you provided. This type of liability coverage can help pay your:
Legal defense costs
Settlements
Judgments
Court fees
Illinois Data Breach Insurance
Cyberattacks are becoming more and more common. If your business stores confidential or sensitive customer information, you're at risk of a data breach. Data breach insurance, which some insurers call
cyber insurance
, can help your business respond to a breach and pay for your costs to:
Notify impacted customers
Offer credit monitoring services
Pay legal fees or fines
This insurance can help your small business if your:
Customers' confidential data gets viewed or stolen by an unauthorized individual.
Business' intellectual property or trade secrets get stolen.
Secure network gets damaged and your business loses sensitive information.
We can help your business immediately respond to a breach. The sooner the public views your business as reliable and trustworthy, the better.
Illinois Commercial Flood Insurance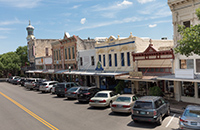 When it comes to business insurance, Chicago, IL small businesses should think about getting
commercial flood insurance
. Commercial property insurance policies don't typically cover flood damage. This is important because Chicago has the largest percentage of properties in the country that are unexpectedly prone to flooding.
2
Commercial flood insurance helps cover property damaged by flood water. We provide this insurance through the
National Flood Insurance Program
. The federal government requires a 30-day waiting period on new policies. So, it's important that you get this insurance well before a flood heads your way.
You may need commercial flood insurance if your business is in an area where:
Constant, moderate rainfall that could clog rains and gutters, causing it to flood your place of business.
A warm spring season causes fast snow melt that overflows the rivers and dams in your area.
You're based in a coastal area of the state that has had hurricane warnings in the past.
Seguro comercial para automóviles
Commercial auto insurance
is critical if your business owns or leases vehicles that you or your employees use for work. This coverage is also helpful if your employees use their personal vehicles for business.
If you or an employee get into an accident, a commercial auto policy can help cover:
Medical expenses
Rehabilitación
Vehicle repairs
Replacement needs for another driver
This insurance can help your small business if:
An employee rear-ends another driver while making a delivery.
You accidentally hit another car while driving back to the office after meeting with a client.
Your employee loses control in a snowstorm while driving to a customer's house and crashes into their fence.
Workers' Compensation Insurance in Illinois
Most
states
have their own workers' compensation laws and employers are required to carry
el seguro de compensación para trabajadores
. This insurance provides benefits to help employees recover from work-related injuries or illnesses and can help pay for:
Medical bills
Ongoing care costs
Disability benefits
Illinois Minimum Business Insurance Requirements
The State of Illinois does require business owners to carry certain insurance coverages. All businesses with employees must have workers' compensation insurance. The state also requires businesses to have unemployment and disability insurance for certain employees based on how much they work and get paid.
If you're asked to prove you have certain types of insurance, you'll need a
certificate of insurance
(COI). As a policyholder, we make it quick and easy for you to get a
COI online
. You can also get a COI after getting a
cita
and policy.
Industries We Insure in Illinois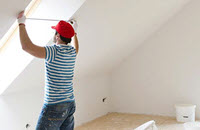 From technology insurance to contractor insurance in Illinois, we offer business insurance coverages that can help companies in different industries, including:
Get a Quote for Business Insurance in Illinois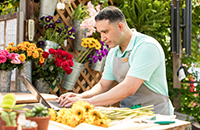 Whether you're in Chicago, Peoria, Quincy or elsewhere in Illinois, you can quickly and easily get a business insurance quote online. We're an experienced insurance company that's helped more than 1 million small business owners, and we can work with you to customize your insurance policy to fit your business' unique needs.
Learn More About Illinois Business Insurance
No matter where you live, we can help you with Business insurance in Illinois.
Last Updated: November 8, 2022
Divulgaciones adicionales a continuación.
Links to Illinois Workers' Compensation Insurance Pages
More Answers to Frequently Asked Business Insurance Questions