Our Commitment to Service
The coverage and industry knowledge we provide agents and clients is crucial to their businesses – but it's only one piece of our relationship.
Service – delivered how and when it's needed – is what helps insureds take full advantage of what they've purchased. We combine our coverage and deep industry specialization with service capabilities designed to deliver the most value at every step of the customer journey.
Our commitment creates a holistic and consultative experience that's distinctly ours, building trust and respect that can stand the test of time.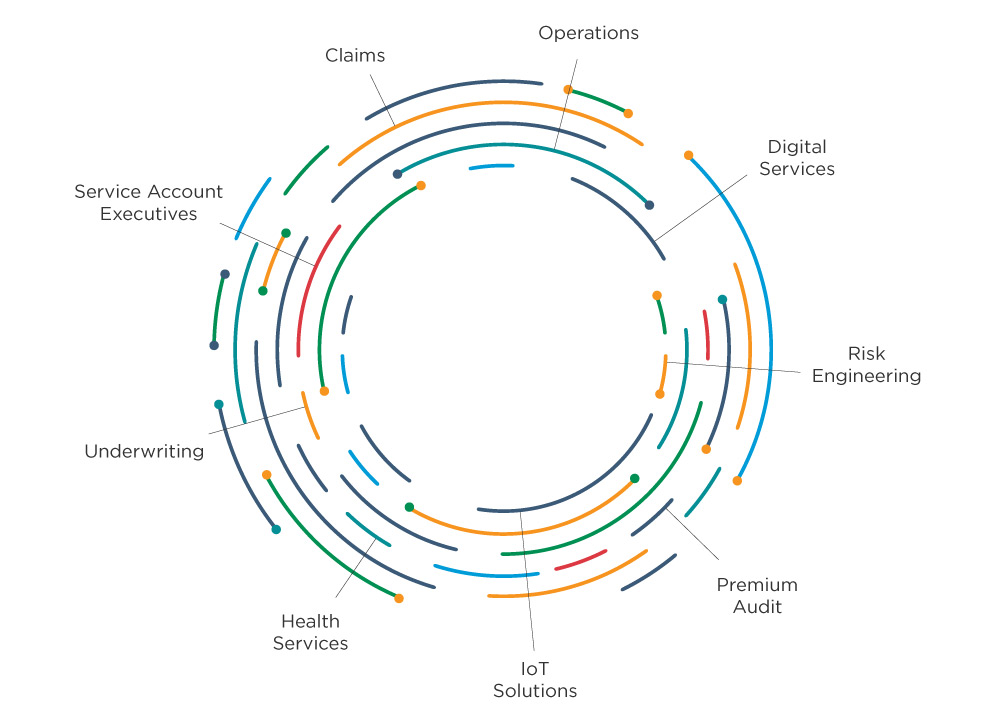 Service Account Executives
Our Service Account Executive team provides service and relationship management to loss sensitive accounts. We'll provide responsive interactions and deliver an easy-to-navigate tailored service experience – an asset for agents and brokers when delivering to clients.
Reclamos
We know each account that an agent or broker handles is unique. It's why we create tailored
claims services
for each account need. And only our most experienced adjusters focus on complex claims. Our specialists:
Analyze claims
Address the loss drivers
Develop tailored solutions to help lower costs
Underwriting
Our underwriters are empowered with the right tools and technology to provide the best-in-class support. We enable our underwriters to be exceptional at their craft and deliver timely responses on accounts that deliver results-oriented solutions.
Digital Solutions
We offer many
digital solutions
to make the jobs of agents and brokers easier and more efficient.
Viewing policy activity and reports
Tracking and submit endorsements
Making policy changes
Accessing billing statements
Mi Cuenta
meets the needs of insureds and offers easy online service, including real-time policy changes and reminders.
TREO
which stands for Track Risk. Explore Opportunities
SM
is our risk management information system (RMIS). It's designed to provide:
Rich data
Robust functionality
Flexibility
Dynamic reporting
Simplified claims management
IoT Solutions
Nuestra página
IoT Innovation Lab
actively finds ways for technology to help customers proactively prevent claims. Our team provides actionable insight to help mitigate risks and reduce losses.
Health Services
Our Health Services team delivers a comprehensive set of capabilities in the workers' compensation and disability markets to help improve worker health and productivity. Employers can experience a lower total cost of risk through
injury prevention solutions
and our integrated claim offering,
The Hartford Productivity Advantage
.
Operaciones
We're committed to creating differentiated experiences with speed and ease. So, we provide a single point-of-contact for service inquiries and escalations. This allows us to provide personalized service throughout the new business process, which leads to subsequent endorsement requests and policy renewals.
Premium Audit
Through a high-touch model, we communicate proactively and act in a responsive manner for our partners. Insureds, agents and underwriters will have a better understanding of what to expect during a premium audit and what to expect at every step of the process. For complex accounts, they'll go through a specialized audit model, which includes a post-audit consultation.
Ingeniería de riesgo
We're deeply invested in risk engineering services to help businesses reduce claims. Our
Ingeniería de riesgo
team understands why things go wrong and can provide loss control services to create the safest work environment possible.
It's All Here – Our Winning Combination
At The Hartford, it's more than having all the capabilities you and your clients need. It's about bringing them together in a way that delivers better outcomes and seamless service experiences beyond your client's expectations.
It's about demonstrating day in and day out just what our commitment to partnering with you looks like.
And that's a win for all of us.