A Philosophy of Empowerment
Our mission is to help people return to a productive lifestyle by providing risk management experience, tools and resources during a time of disability. We focus on abilities, not limitations. We help provide income replacement to insured members, death benefits to beneficiaries and deliver outstanding service in all that we do.
Our Claims to Fame: Quality, Fairness, Customer Satisfaction
We administer claims for life, voluntary and disability clients, focusing on quality and accuracy.
Leveraging industry-leading claims best practices while incorporating client-specific contract language
Delivering outcome-driven claims results based on customized claims solutions
Providing broad and deep knowledge of claims experience with a strong focus on excellence in customer service
Customer Service: Automatically Going Beyond the Call
GRP Fulfills the Promise of Excellent Claims Handling Daily With All of the Following:
Rapid response: GRP Claims Service team answers all inbound calls from claimants, policyholders and their representatives
Privacy: We maintain client privacy using dedicated toll-free phone numbers
Easy access: Our GRP call center offers interactive voice response (IVR) and after hours voice-mail to ensure an optimal service experience
High quality communication: All front-end claims staff members utilize the latest telephonic technology to ensure proper call routing and clear communication. This includes screen and call recording capabilities
Language translation capabilities: Our in-house staff and language partners help ensure that your employees receive accurate information in their preferred language
Net Promoter Compared to Industry Benchmark
Net Promoter Score (NPS) is derived using a single question from the claimant survey:
"Based on your disability claim experience thus far using a scale of 0 to 10, where 10 is the highest score possible and 0 is the lowest score possible, how likely is it that you would recommend your group disability carrier to a friend, colleague, or family member?"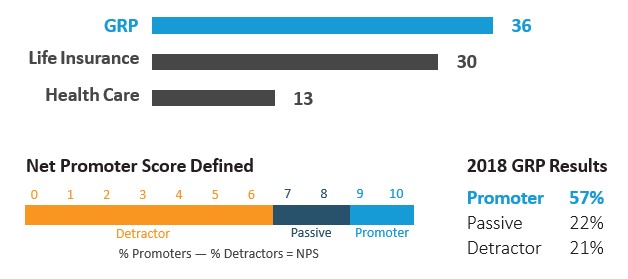 Our People Make the Difference
GRP offers a diverse and dedicated team of claims professionals and a broad network of clinical specialists and resources. They include:
Ability analysts who manage each and every claim according to provisions of the contract and client-specific requirements
Medical and vocational case managers who average over 15 years of experience
A claims management team that collaborates to make sure claims issues are promptly addressed and resolved
A dedicated training resource available for all team members to ensure our knowledge enhances the service we provide