Consider this: an ingestible pill with an embedded sensor that transmits a digital message from within a patient's stomach to an app on their smartphone.
It sounds like the stuff of science fiction. But it may soon be reality thanks to the growing digital health industry.
What Is Digital Health and Why Does It Matter?
Digital health is a market that combines different industries, including:
The Food and Drug Administration (FDA) considers digital health to include:1
Mobile health (mHealth)
Health information technology (IT)
Wearable devices
Telehealth
Telemedicine
Personalized medicine
An example of a digital health company is Florida-based etectRx. It received clearance from the FDA in 2019 for its patented ingestible event marker, the ID-Cap.®2 The ID-Cap is the first marker to "transmit digital messages from within the body to an external receiver without the need for direct skin contact for the purpose of recording ingestion events."3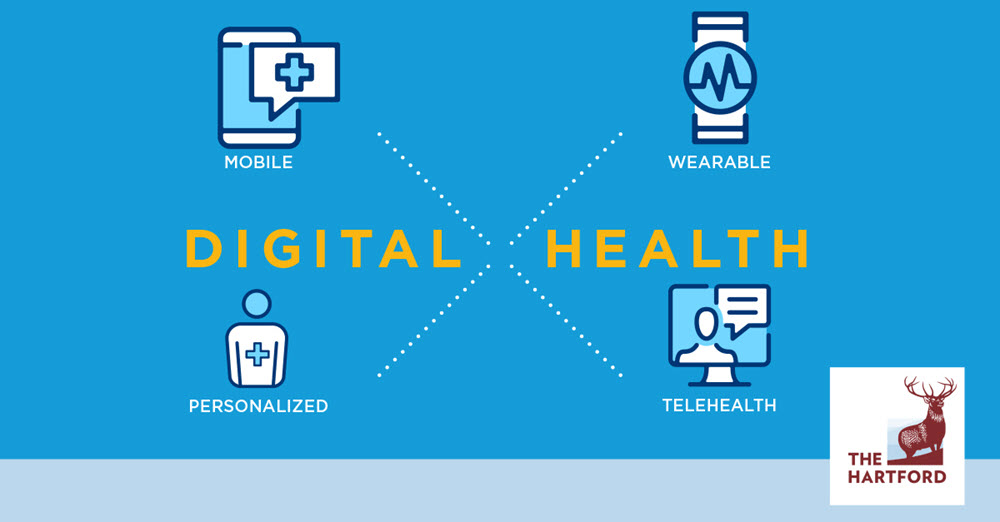 Why Is Digital Health So Important?
Digital health is important because as it continues to grow, it has the potential to greatly impact consumers. In fact, the FDA states that digital health tools have "vast potential to improve our ability to accurately diagnose and treat disease and to enhance the delivery of health care for the individual."4
EtectRx's ID-Cap is just one example of this. It can help address a growing issue in the health care field: medication nonadherence. Patients often neglect to take their medicine in the correct intervals and doses, leading to potentially harmful health outcomes.
The device can also notify a patient's physician or pharmacist about adverse outcomes and provide a real-time view of ingestion events.
"We're in a time where the pandemic caused people to delay routine health care appointments," said Dr. Adam L. Seidner, chief medical officer at The Hartford, noting the findings from the company's latest
Future of Benefits
pulse survey. "Coupled with the common issue of medication nonadherence, this can negatively impact people's health and the health care system. Tools like digital health devices can prevent this trend from increasing."
Digital Health and Its Huge Growth Potential
The implication that the digital health market can have for insurance agents, brokers and carriers is enormous. One report puts the global digital health market size at more than $1.5 trillion by 2030, expanding at a compound annual growth rate of 27.7%.5
With customers now expecting specialized service from their brokers, digital health and its web of regulatory complexity presents both tremendous opportunity and challenge for the insurance industry, according to Brad John, head of Life Science at The Hartford.
"Insurance carriers need to have strong knowledge of digital health and the nuances of the regulatory environment to offer innovative, customizable risk solutions that scale up as the company grows," John explained.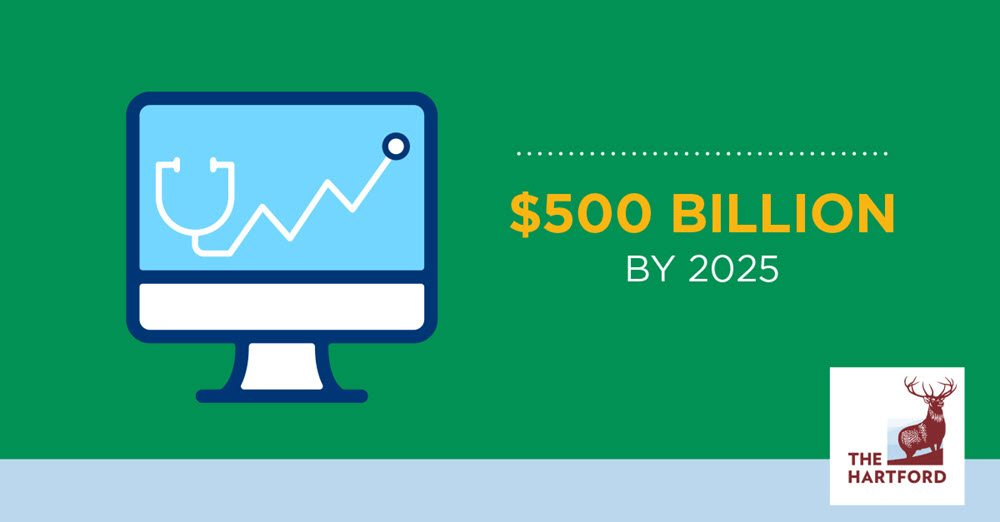 Regulatory Environment: The FDA's Response To Supporting Digital Health
To the FDA's credit, it's taken the digital health space seriously, admitting its traditional approach to moderate and higher risk hardware-based medical devices wouldn't work well for the "faster, iterative design, development and type of validation used for software-based medical technologies."6
The agency implemented a Digital Health Innovation Action Plan, which:7
Provides guidance on the medical software provisions of the 21st Century Cures Act
Launched a Digital Health Software Precertification Pilot Program to help customers develop a new approach to digital health technology oversight
Builds FDA's bench strength and expertise in the Center for Devices and Radiological Health (CDRH) digital health unit.
The FDA's Digital Health Program aims to create relationships with digital health developers, patients and providers, enacting transparent policies while balancing the benefits and risks to the public.
For example, the agency is focused on higher risk mobile medical apps and decided not to focus on lower risk mobile apps and products, such as those promoting general wellness. Focusing on the higher risk technologies lets the FDA streamline its processes to help advance technologies.
Over the past several years, the FDA also:8
Confirmed it doesn't plan to focus oversight on technologies that receive, transmit, store or display data from medical devices
Clarified their expectations with cyber security
Collaborated with stakeholders to form a community to exchange cyber security information
Partnered with customers and other federal agencies to propose a new framework for Health IT in the FDA's Safety and Innovation Act
A New Approach to Certifying Lower Risk Digital Health Devices
The FDA's Digital Health Software Precertification Pilot Program should be of significant interest to developers. It would "replace the need for a premarket submission for certain products and allow for decreased submission content and/or faster review of the marketing submission for other products."9
Under this approach, the FDA could pre-certify eligible digital health developers who "demonstrate a culture of quality and organizational excellence based on objective criteria."9 This includes:10
Superior software design
Development
Testing
Pre-certified developers could then qualify to "market their lower-risk devices without additional FDA review or with a more streamlined premarket review."11
Digital Health Presents the Convergence of Technology and Life Science Risks
In December 2019, the Dexcom G6®, a glucose monitor, experienced a service outage.12 The device tracks glucose levels of users with diabetes through a sensor on their abdomens. When blood sugar spikes too high or low, it sends an alert to a smartphone.
With the service outage, thousands of users were suddenly without critical information needed to regulate their blood sugar. One child nearly died when the device didn't send an alarm to his mother's smartphone, failing to notify her of his dangerously low glucose levels as he slept.13
The advent of the digital health age and the changing regulatory environment made certain risks more complex, such as:
Business continuity
Legal
Responsabilidad
Seguridad
Cyber concerns should also be considered for both first- and third-party exposures. As the majority of devices are connected to the internet or other networks, security breaches are increasingly possible. A malware attack can have devastating effects for users that rely on digital health products to monitor or control critical health function.
Insurance Solutions To Help Mitigate Digital Health Risks
Businesses are increasingly demanding specialized partners for their evolving needs and rely on the expertise of agents and brokers to navigate complex regulatory environments as they invent, test and go to market with cutting-edge digital health applications.
There are myriad coverage considerations in the digital health space. First-party coverage includes:
Cyber business income
Cloud computing
Cyber extortion
Data recovery/restoration
System failure
Third-party considerations focus on:
Cyber bodily injury liability
Data wrongful collection and use
Privacy breach liability
Technology errors and omissions (E&O)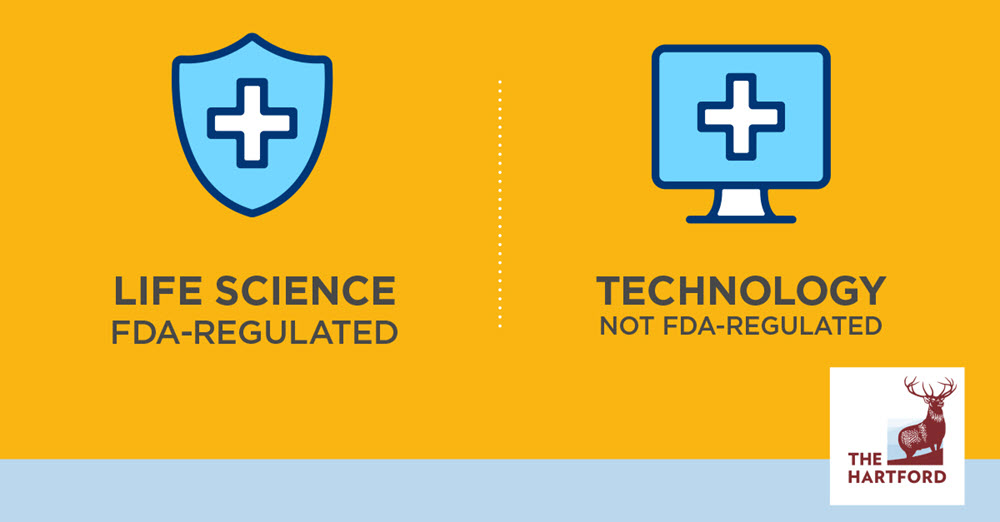 The Hartford has a broad range of expertise, products and service capabilities in the digital health space spanning life sciences and technology. Businesses can customize their coverage offerings to meet their unique needs.
Digital health products and services that require FDA regulation fall under our life sciences practice. Devices not regulated by the agency are handled by our technology practice. In both scenarios, our combined industry expertise brings a unique perspective to understanding both the technology and life science risks associated with digital health.
For companies with employees who travel overseas or have international enterprises, we have a dedicated
Multinational
team. Our technology and life science underwriters partner with this team to identify potential international risks and bring comprehensive multiline capabilities to our global digital health customers.