The Hartford's latest Future of Benefits Study, taken nearly a year after the onset of the pandemic, offers a glimpse into the future workplace and trends in employee benefits. This study, which was fielded in February 2021 – and previously in March and June of 2020 - is part of The Hartford's ongoing effort to deliver new insights about U.S. workers and their benefit preferences, as well as trends in the benefits employers provide to their workforce.
Despite the challenges U.S. workers and employers experienced over the past year, our study found some silver linings emerge amid the pandemic in employee benefits, workplace culture, mental health and employee engagement. As the country begins to move forward into different phases of reopening and more employers transition their workforce back to the workplace, the additions, adaptations and attitudes help define an emerging road map. One that leads us into the new realities of workplace culture and benefits.

Paid Leave Expands, but Workers Have Concerns Taking Time Off
The pandemic underscored the need for paid time away from work, and employers have responded. The study showed that 75% of employers have expanded their paid leave and PTO programs beyond state or federal requirements. The most common benefits added last year were paid medical leave and sick time:
Medical leave: 46%
Sick time: 46%
Family leave: 39%
Parental leave: 30%
PTO/vacation time: 30%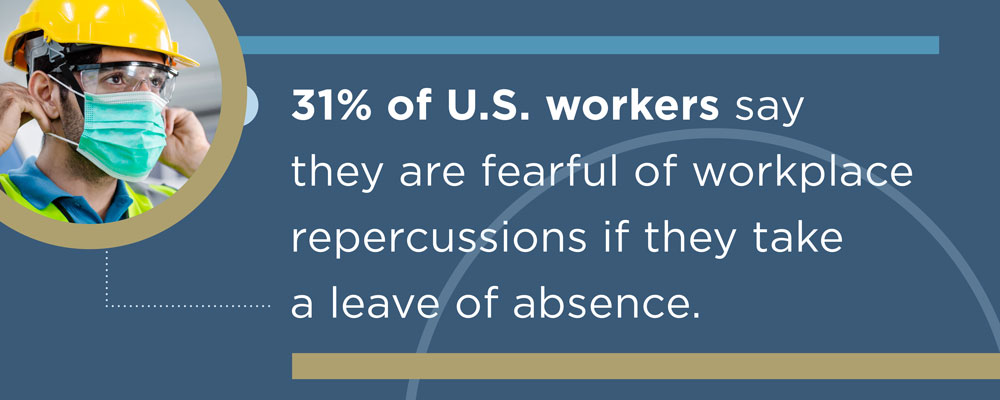 However, our data shows that some employees believe there is a stigma associated with taking a leave of absence. In fact, 31% of employees say they are fearful of workplace repercussions for taking leave, such as getting fired, laid off, skipped over for a promotion/raise or reduced hours. And 29% believe there is a negative perception associated with taking leave.
The need for paid time off for medical leave or caregiving is not going to diminish once the pandemic is over – and neither is the complexity of leave management and compliance for employers. As the leave landscape continues to rapidly change, employers face a variety of challenges in administering the
many types of leaves
to fully support their workers.