While the ongoing COVID-19 pandemic has been driving up stress, anxiety and depression, it's also creating an opportunity for employers to focus on employee wellness, according to mental health and employee benefits leaders during a
recent webinar
hosted by The Hartford.
"This is one of the greatest opportunities for culture change and empathy that we've ever seen," said Ken Duckworth, M.D., Chief Medical Officer for the National Alliance on Mental Illness (
NAMI
).
Along with Duckworth, JetBlue Director of Benefits Kristen Brown and Adele Spallone, Vice President of Clinical Operations for The Hartford, discussed The Hartford's recent
investigación
about mental health in the workplace.
The speakers advocated for employers to embrace education about mental health. They recommended communication to reduce stigma, while encouraging treatment and leveraging innovative strategies to boost employee wellness. By updating their company culture and employee benefits, employers have the opportunity to not only improve the lives of their employees, but also drive company success.
Mental Health Education for Managers Is a Must
Brown suggests getting up-to-speed on mental health, noting that it's a key step for employers who want to update their benefit plans to further support employee wellness.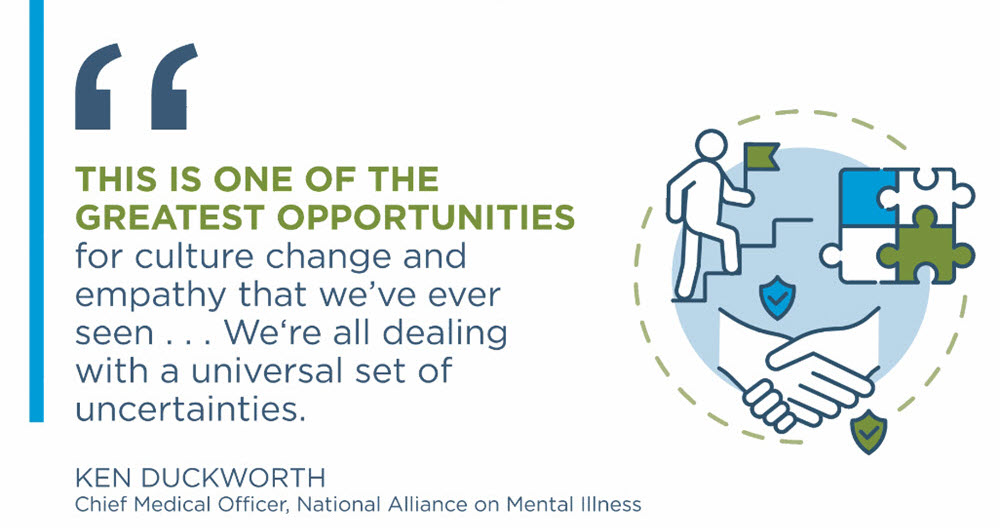 "I would say engage with an expert in this – whether that's a broker, whether that's a mental health expert affiliated with your broker or consultant, whether that's someone like The Hartford as your business partner that has taken a progressive step in this topic, and get yourself educated," said Brown. "[Organizations] like NAMI are an incredible resource for someone who might be scared of this topic as an employer."
Brown also noted NAMI has a number of
educational programs
that can help employers and employees.
Speakers specifically highlighted a need for mental health training for managers. When discussing The Hartford's Future of Benefits Study, which found that only 45% of employees said they would feel comfortable reaching out to a manager for mental health support, Spallone said managers, once trained on the topic, could proactively reach out to employees to check on their wellbeing.
Share Mental Health Resources at Work
Employers should use every day language to talk about mental health and normalize conversations in the workplace about this once-taboo topic. "If we can go to a place of talking more about overall wellbeing – I definitely think that COVID has done that – then people are more comfortable talking about mental health and seeking needed care," Spallone said.

Brown recommended that employers regularly communicate to employees about mental health resources available to them and their families. For example, she said JetBlue promoted its employee assistance program (EAP) to crew members on a weekly basis with a tagline of, "Be kind to you."
Think Beyond Traditional Therapy for Younger Generations
In The Hartford's study, Gen Z and younger Millennials (1995-2002) were nearly three times more likely to experience struggles with depression or anxiety compared to Boomers (1955-1966).

Spallone said the generational impact is evident in The Hartford's claims data as well. Mental health disorders rank among the top five reasons for a disability claim, and for U.S. workers in their 20s, mental health conditions are in the top three.1

While the speakers support traditional mental health benefits such as an EAP, they said digital health and other non-traditional resources are additional ways for employers to engage diverse employee groups.

Younger workers may be more comfortable seeking help via text or a smart phone app than traditional therapy, said Brown. She noted one advantage of digital health, such as a video conference meeting, is that the entire family can participate in the therapy session, even if they are located in different areas of the country.

"Everything right now with telehealth and the digital apps are also normalizing people. Because they see they are not the only ones," said Spallone. "Especially as people blog or see how many people review the apps or how many people align with a condition, they are able to see 'It's not just me.' "

The JetBlue director gave the example of a non-traditional benefit that has a mental health element: a sleep improvement program. Brown said pilots typically are hesitant to use mental health resources. "If I can engage with them around a topic like better sleep patterns, what they don't realize is that I'm improving their mental health, still caring, and making it comfortable for them to engage," Brown said.

Duckworth encouraged employers to foster peer-to-peer support so that employees can share coping ideas with each other.
"We're all at our first pandemic. What could we learn from each other? I think that's a relatively hopeful and empowering message," he said.
Be a Human First, Employer Second
Half of U.S. workers surveyed by The Hartford said discussing mental health topics in the workplace will become more accepted as a result of the pandemic. The speakers all agreed.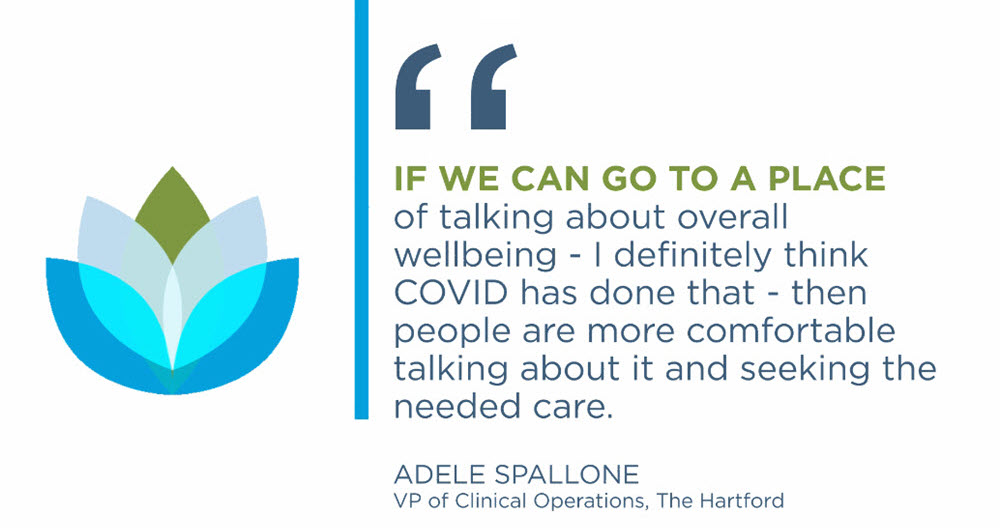 "This has been the blessing through the pandemic – the ability to think about ourselves as human beings differently and incorporate the sense of wellbeing in the workplace," said Spallone. "Employees are more engaged and employers are more understanding. We really have a higher level of empathy. We can learn from this."
The webinar was a result of The Hartford and NAMI's partnership, with a goal to further a national dialogue about mental health and inspire leaders to embrace a stigma-free culture within their companies and communities. You can watch a
full replay of the virtual event here
.
1 Mental health conditions were in the top three reasons for short-term disability claims for people in their 20s for last four years, excluding pregnancy.