Before you started your small business, you probably did market research to make sure there was enough of a need to bring your idea to life. As you think about growing, it's not a bad idea to continue your research and see what has changed in your market.
One growth strategy you can use is market development. This approach uses market segmentation to find potential customers within your existing market. It's meant to help you tap into a new segment with your existing offerings, or lead to product development to reach a new type of customer.
If you're still finding it difficult to come up with a plan to help your business grow, you can look to other companies for ideas. In fact, one of the best ways to learn how to grow your business is to use other companies as an example.
3 Business Growth Strategies Used by Successful Companies
Nearly 80% of small businesses survive their first year.1 But, the rate drops the longer a company is in business. For example, only about 50% of small businesses survive five years or longer, and about 33% survive at least 10 years.2 This trend shows growth is essential to your business' long-term survival and success.
1. Grow Your Business Through Franchising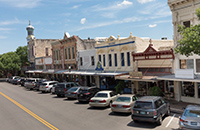 Por medio del
franchising
, you create a successful operation and sell it to people who own and operate their own version of your business. It's a good way to expand and create more revenue for your company.
Some of the biggest fast food companies used franchising as a way to grow their business. With over 36,500 locations, McDonald's is one of the largest fast-food chains in the world.
3
The
franchising process
is a key part of McDonald's growth strategy, with over 90% of its locations operating as a franchise.
4
The company makes money from its franchises through:
Royalties
Monthly fees
Rent
Before you can grow your business this way, you need to make sure you have a
franchisable business
. It's easier to franchise certain types of businesses, like restaurants or gyms. If you fit the criteria, be aware you'll have to meet the
requirements for franchising a business
. This includes giving accurate information to franchisees so they can make an informed purchase decision.
If you find it doesn't make sense to franchise your business, don't panic. There are
alternatives to franchising
that can still help your business grow, such as licensing ownerships. In this arrangement, you sell the rights to use your business' trademark and logo to someone else. Unlike a franchise, however, you don't have control over how they run their business.
2. Global Business Growth Strategy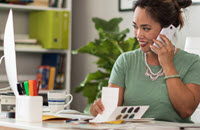 According to the Brookings Institution, just over 50% of the world's population is part of the middle class.
5
That's about 3.8 billion people who have enough disposable income and aren't considered poor or at risk of falling into poverty.
6
This is a big opportunity to bring your existing products to a new target market.
If you're ready to start taking your business global, you'll want to
find exporting opportunities
. It may be a good idea to attend trade fairs to find potential customers. Another option is the U.S. free trade agreement. The U.S. has these agreements with many countries to streamline the exporting process with fewer regulations.
It's important you have each trading partner sign an
exporting contract
to help protect your business and its assets. If you need help with financing your exports, you can get a traditional loan or participate in a program through the U.S. Export-Import Bank.
3. Referral-Based Business Growth Strategy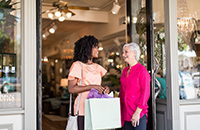 Word-of-mouth marketing is a tried and true strategy to help businesses grow. Referral marketing is a type of word-of-mouth marketing. This strategy rewards existing customers for bringing in new customers, or referrals.
Referral marketing is popular among subscription-based businesses.
HelloFresh
, a company specializing in meal kit deliveries, uses referrals to grow its number of subscribers. Through its "HelloRewards" program, existing customers earn credits for each referral. For example, an existing customer can give someone an offer to save $40 on their first purchase. If that person places an order, the existing customer receives a $20 credit.
If you're planning to use referral marketing to help grow your business, you'll want to offer a valuable reward for your existing customers. It has to be something that makes their marketing efforts worth it. As with other growth strategies, you can track your referral program's progress. If you find your customers aren't using it, you may be able to make changes, like better incentives, to encourage participation.
While these companies found success using different growth strategies, finding the plan that works for your business may take time. There may be some trial and error until you find a successful strategy that transforms your startup into a larger business. Be patient and don't forget to regularly review your
business plan
and note any strategies you decide to use to help
accelerate business growth
.
1,2 U.S. Small Business Administration Office of Advocacy, "Frequently Asked Questions"