Absence Management Services From The Hartford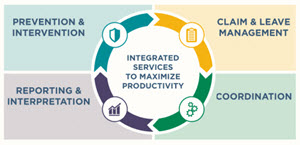 Absence management is a necessary approach that leading employers use to help maximize employee productivity. It often involves a variety of programs and practices designed to decrease absenteeism and enable employees to safely return work as early and as safely as possible.
Employers should customize absence management interventions to meet the needs of their unique organization. Several established approaches include: absence prevention, effective and efficient claims and leave administration, and advocacy services which provide clinical support to link employees to the appropriate health and wellness programs. A comprehensive absence management program includes:
Proactive return-to-work (RTW) support for employees
Solutions to better engage employees into health and wellness programs
Worksite absence and productivity assessment services
Industry-leading support on family and medical leave issues
Innovative interactive tools that provide sound insight into absences and smart analytics to identify trends
Management and coordination of both work and non-work related absences
Guidance in helping employees gain access to Social Security Disability Insurance, when needed
The Hartford was among the first insurance carriers to recognize and respond to a growing need among employers for absence management services. Since 2001, we've been helping companies control costs while reducing the risk and complexity of administering employee absence.