Seguro de viviendas en California

California residents have so much to enjoy – from beautiful beaches to majestic mountains. And even though the Golden State sees a lot more sun than most of the country, the west coast climate can also be hard on California homeowners.
Common natural disasters have been known to cause severe devastation throughout the state. That's why it's important to have good insurance coverage so you know your home is as protected as possible. At The Hartford, we offer great options for homeowners insurance. California providers should give the kind of coverage that allows homeowners to have peace of mind – and that's what we strive to do.
We also know that weather isn't the only thing you have to worry about. Challenges like fire, lightning and even vandalism or theft can cause significant damage to your home and other structures. Our home insurance policies can help keep you protected when the unexpected strikes. It doesn't matter where you live, whether it's the Bay Area, San Francisco, Napa Valley, San Diego or anywhere in between. Nuestra página
seguro de viviendas
can help protect your home from financial loss.
Types of California Homeowner Insurance
Unlike California car insurance,
homeowners insurance isn't required
by law in the state. However, if your home is financed with a mortgage, your lender may require some type of homeowners insurance. California has many home insurance companies that offer protection, and it can be hard to determine which one is the best for you. The Hartford strives to put our customers first and is the only home insurance company endorsed by AARP.
®
With our flexible options, discount offers and expert service, you'll know that your CA home is getting great protection.
Plus, our policies come with a wide array of coverages, including:
Personal Liability Insurance
, which helps provide for your legal defense when a liability claim is filed against you. For example, if your friend gets injured on your property, this coverage can help pay for damages that you're liable for.
Loss of Use Insurance helps cover your additional living expenses while your home is unlivable. So, if you have to stay in a hotel for a week while your home is being repaired after a covered loss, this coverage can help pay for your expenses.
Medical Payments helps pay emergency medical bills if someone is injured on your CA property. For example, if someone trips in your home, this coverage can help pay for their medical bills, up to your policy limit, whether you are responsible or not.**
Dwelling Coverage
helps protect your CA home inside and out from damage in a covered loss. These coverages can include your home's:
Calefacción
Aire acondicionado
Roof
Siding
Walls
Flooring
Cobertura para otras estructuras
helps protect other structures on your California property from things like fire, vandalism and falling objects. This includes buildings on your property that aren't attached to your house. For example, detached garages, gazebos and cottages are covered. If a tree falls on your detached garage, this coverage can help pay for the damage or cost of repairs.
Cobertura de propiedad personal
helps protect your personal belongings, such as furniture, clothing and appliances. For example, if your candle causes a fire and your couch ends up ruined, your personal property coverage can help repair or replace it. You can also purchase additional coverage for valuable items and other special possessions like jewelry or collectible items.
Additional California Homeowners Insurance Coverage Options
Cobertura de artículos valiosos
provides extra coverage for your jewelry, china, crystal, silverware, guns and more. While your homeowners policy caps coverage on jewelry up to a $1,500 limit for loss by theft, The Hartford's Valuable Items Blanket Coverage can increase the limit to $10,000 per item. It can also extend coverage for lost items or damaged valuables. This coverage can also help cover mysterious disappearances.
For example, if someone breaks into your home and steals a diamond ring and necklace that are worth $8,000, valuable items blanket coverage can help pay to replace them. Without it, you would only receive $1,500 towards replacing the stolen jewelry.
Advantage Coverage Package allows you to bundle popular coverages. These can include "New for Old" Protection, personal injury liability insurance, reimbursement for replacing locks, identity fraud coverage and more.2
"New for Old" Protection‡ helps provide the actual cost to replace your possessions if they are destroyed by a covered loss with brand new ones of the same quality.
Personal Injury Liability Coverage covers losses arising from a libel or slander claim.
Lock Replacement Coverage helps pay up to $500 to replace locks if your key is lost or stolen, you'll just have to pay the $100 deductible.
Identity Fraud Expense Coverage helps reimburse up to $25,000 of out-of-pocket expenses used while recovering after a fraud or identity theft incident. This coverage may also help cover lost income and legal fees resulting from the identity fraud recovery.
The Home Advantage Plus package includes additional coverage to the Advantage package, such as:3
Equipment breakdown coverage to help cover the cost of repairing or replacing appliances, furnaces or HVAC systems in case of an electrical or mechanical breakdown. However, it does not help cover normal wear and tear.4
Most homeowners insurance policies don't cover flood damage. However, you can purchase
 seguro contra inundaciones
as an additional coverage if your community is part of the National Flood Insurance Program.
Rental Property Protection Plus provides protection for you as a landlord for rental units you own.
Rental property insurance
coverage includes:
Replacement cost of the rental dwelling
Cobertura opcional para estructuras independientes
Daño a la propiedad por vandalismo o robo
Daño a césped, plantas y arbustos
Valor de renta justa (20% de cobertura de la vivienda)
What Is the Average Cost of Homeowners Insurance in California?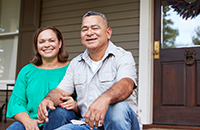 According to the Insurance Information Institute (III), the cost of homeowners insurance policies vary from state to state. In California, the average premium is $1,177, which is slightly below the national average of $1,272.
5
What Factors Affect California Homeowners Insurance Rates?
Home insurance rates vary and are determined based on factors like your:
Home's age
Rebuilding cost
Claims history
California Home Insurance Discounts†
There are many ways to save on your homeowners insurance in the Golden State. At The Hartford, we offer several types of discounts to help lower your premiums.
Bundled Insurance Discount
If you already have a car insurance policy with The Hartford, bundling it with your homeowners insurance means you'll qualify for our bundled policy discount, which can save you up to 5% on your car insurance and up to 20% on your home insurance.
Home Security Discount
You can help lower your premium by installing devices such as burglar alarms and additional fire alarms.
Última actualización: 17 de abril de 2023
‡ Some benefits such as Reimbursement for Lock Replacement are only available with the Optional Home Advantage Plus package. También hay disponible una póliza sin estos beneficios adicionales.
** Medical benefits are calculated on the basis of usual, customary, and reasonable charges.
† Bundling savings are not available in Hawaii and Massachusetts. In New Jersey, the discount is applied to the homeowners insurance policy only.
2 This package is ideal for customers who want extra protection, above their base policy, for certain coverages such as: Replacement Cost Contents Coverage, Personal Injury Protection, and ID Fraud Expense Coverage.
3 The Hartford's most popular package and includes all of the features of Home Advantage, plus extra benefits such as the Disappearing Property Deductible‡‡ and Equipment Protection Advantage.
4 Equipment Protection Advantage also provides coverage if you want to make "green" upgrades. It pays up to 110% of your cost to replace any covered equipment with items that are similar, but more energy efficient or environmentally friendly.
5 "Facts and Statistics: Homeowners and Renters Insurance," Insurance Information Institute.