Top 5 Reasons Why the AARP Auto Insurance Program From The Hartford Is a Good Deal
The Hartford has offered special benefits to nearly 40 million AARP members since 1984. The
AARP® Auto Insurance
Program from The Hartford helps protect AARP members and their families on the road.
With the AARP Auto Insurance Program from The Hartford, members can enjoy:
Custom coverages – The AARP Auto Insurance Program from The Hartford offers various coverages to help AARP members. This includes lifetime renewability auto insurance, a 12-month car insurance policy, and a 24/7 car insurance claims hotline. Our Advantage and Advantage Plus programs have additional optional coverages to help protect you and your car while on the road.
Affordability – AARP members can qualify for benefits that make their policy more affordable. If you have a clean driving record, you may qualify for the First Accident Forgiveness or Disappearing Deductible‡ benefits.
Personalization – Every driver is unique. Car insurance policies should address each driver's unique needs. We understand that and can help you find the right coverage for you and your family.
Discounts – You can save money if your car has an anti-theft device, complete a defensive driver course, or pay your policy in full. You can also save on your premium by bundling your home and auto insurance.*
A top-rated claims team – Accidents happen. And when they do, they can be costly. We stand behind you at every interaction, especially at the time of loss. Our claims team has received high ratings and reviews for helping members through the claims process. They're known for getting cars back up and running.
How Does the AARP Auto Insurance Program From The Hartford Compare to Others?
Car accidents can be costly. Car insurance can help cover different costs if you're involved in an accident. Without it, you may be on the hook financially to pay for repairs, property damage, or any medical payments for bodily injuries. This is why it's important to get the right amount of coverage and to work with the best company.
The Hartford offers excellent customer service and an easy-to-navigate claims process. Insurance specialists from The Hartford can help answer your questions. They can also help you get the right policy with the right coverages.
If you're in an accident, The Hartford's claims team is here to help walk you through what you need to do. If your car needs to be repaired, The Hartford can also help you find an authorized repair shop. Our goal is to get you back out on the road as quickly as possible and to protect the lifestyle you've created.
The Hartford is also the only national auto and home insurance program endorsed by AARP. The Hartford's industry-leading products and reputation for great service sets us apart. And we'll have your back if the unexpected comes. Our goal is to get you back on the road.
Questions Asked to Representatives About the AARP Auto Insurance Program From The Hartford
A car insurance policy can help protect you and your family if you're involved in an accident. It can help cover the costs of property damage and bodily injuries. It's important to know how much coverage you have, so you know you and your family is protected.
Here are a few frequently asked questions:
Do You Have to Have Car Insurance? Most states require drivers to carry car insurance. There are minimum coverage requirements that vary by state. But that doesn't mean you should just buy the minimum coverage. Consider buying a higher level to get more protection for you and your family.
How Do I File a Car Insurance Claim? You can report a claim online or reach The Hartford by phone at 800-243-5860. Representatives are available 24/7. Our claims team is also ready to help you as soon as you file a claim. They'll guide you throughout the whole process.
What Types of Car Insurance Coverages Should I Have? The Hartford offers multiple coverages you can add to your car insurance policy. These can range from medical payments coverage to personal umbrella insurance. Our specialists can help you determine the right coverages to meet your needs.
How Much Is Car Insurance? Different factors affect a car insurance premium. Your gender, marital status, location, claims history, and driving record all play a role in how much you'll pay for your insurance premium. Talk to an agent or get a quote today to find out how much you may be able to save for a car insurance policy with The Hartford.
Do You Have New Car Replacement Coverage? AARP Auto Insurance from The Hartford offers new car replacement coverage if you have the Advantage Program. This coverage helps replace your new car if you total it within either the first 15 months or 15,000 miles after you purchase it.
Receive Great Rates and Rewards on the AARP Auto Insurance Program From The Hartford
We offer no obligation and no cost quotes. Here's how you can learn more about the AARP Auto Insurance Program from The Hartford:
Obtenga una online insurance quote. It's quick, easy, and you can pay with your credit card.
Llame al 888-413-8970 to speak with an insurance specialist from The Hartford.
The Bottom Line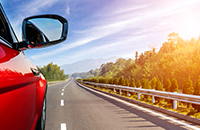 Car insurance policies are as unique as each driver. Coverage needs differ from driver to driver. With the AARP Auto Insurance Program from The Hartford, you can have peace of mind knowing we've got your back.
With the AARP Auto Insurance from The Hartford, you and your family can enjoy special:
Beneficios
Descuentos
Tarifas
Personalized car insurance policies
We're here to help AARP members. And if you're involved in an accident, we'll help you through the claims process and to get you and your car back on the road.